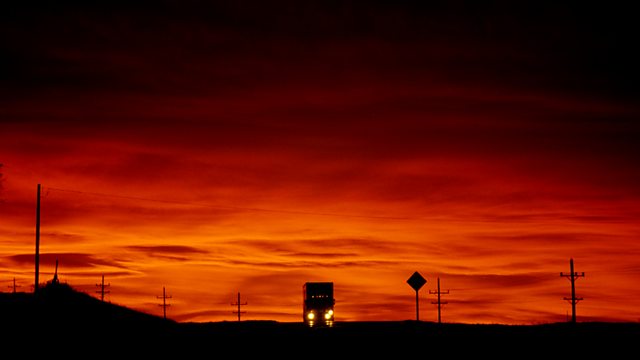 12/12/2009
With Susan Sharpe.
Including:
1.00am
Wagner, Richard (1813-1883): Prelude and Liebestod (Tristan und Isolde)
Berlin Philharmonic
Simon Rattle (conductor)
1.21am
Messiaen, Olivier (1908-1992): Turangalila-symphonie
Tristan Murail (ondes martenot)
Pierre-Laurent Aimard (piano)
Berlin Philharmonic
Simon Rattle (conductor)
2.40am
Bach, Carl Philipp Emanuel (1714-1788): 6 Little sonatas for two flutes, two horns and bassoon, Wq 184
Bratislava Chamber Harmony
3.01am
Brahms, Johannes (1833-1897): Quintet in B minor for clarinet and strings, Op 115
Algirdas Budrys (clarinet)
Vilnius Quartet:
Audrone Vainiunite, Petras Kunca (violins)
Girdutis Jakaitis (viola)
Augustinas Vasiliauskas (cello)
3.41am
Martin, Frank (1890-1974): Mass for double choir
Jauna Muzika (Vilnius Municipality's Choir)
Vaclovas Augustinas (director)
4.05am
Liebermann, Rolf (1910-1999): Suite on Six Swiss Folk Songs
Swiss Chamber Philharmonic
Patrice Ulrich (conductor)
4.17am
Matusic, Frano (b.1961): 2 Croatian Folksongs
Dubrovnik Guitar Trio
4.24am
Anon. (18th century Croatian): 6 works for organ and trumpet
Stanko Arnold (trumpet)
Ljerka Ocic (organ)
4.37am
Lazar, Milko (b.1965): Prelude
Mojca Zlobko Vajgl (harp)
Bojan Gorisek (piano)
4.45am
Sorkocevic, Luka (1734-1789): Symphony No 3 in D
Zagreb Soloists
Henryk Szeryng (conductor)
4.53am
Walpurgis, Maria Antonia (Electress of Saxony) (1724-1780): Sinfonia (Talestri, Regina delle Amazzoni - Dramma per musica)
Batzdorfer Hofkapelle
Tobias Schade (harpsichord/director)
5.01am
Bach, Johann Christoph (1642-1703): Furchte dich nicht - motet for 5 voices
Cantus Colln
5.05am
Monteverdi, Claudio (1567-1643): Confitebor tibi, Domine - motet for voice and five viols
Jill Feldman (soprano)
Les Arts Florissants
William Christie (harpsichord/director)
5.18am
Sances, Giovanni Felice (c.1600-1679): Lagrimosa belta (Cantade à doi voci, libro secondo, parte seconda - Venice, 1633)
Suzie LeBlanc, Barbara Boden (sopranos)
Tragicomedia
Stephen Stubbs (conductor)
Concerto Palatino
Bruce Dickey (conductor)
5.22am
Jarzebski, Adam (c.1590-c.1649): Corona Aurea - Concerto a 2 for cornett and violin
Bruce Dickey (cornett)
Richte van der Meer, Rainer Zipperling (cellos)
Anthony Woodrow (double bass)
Jacques Ogg (harpsichord)
Lucy van Dael (violin/conductor)
5.28am
Vivaldi, Antonio (1678-1741): Concerto in D for two violins, two cellos and orchestra, RV564
Europa Galante
Fabio Biondi (violin/director)
5.39am
Piazzolla, Astor (1921-1992): Le Grand tango for cello and piano
Duo Rastogi/Fredens:
Janne Fredens (cello)
Soren Rastogi (piano)
5.52am
Strauss, Richard (1864-1949): Der Abend, Op 34 No 1 - for 16-part choir
Danish National Radio Choir
Stefan Parkman (conductor)
6.01am
Haydn, Joseph (1732-1809): Symphony No 8 in G (Le soir)
Norwegian Radio Orchestra
Rolf Gupta (conductor)
6.26am
Handel, George Frideric (1685-1759): Flute Sonata in E minor, Op 1 No 1a (HWV379)
Sonora Hungarica Consort
6.35am
Elgar, Edward (1857-1934): Serenade in E minor for string orchestra, Op 20
BBC Concert Orchestra
Stephen Cleobury (conductor)
6.47am
Demersseman, Jules Auguste (1833-1866): Italian Concerto in F, Op 82 No 6
Kristina Vaculova (flute)
Inna Aslamasova (piano).
Last on