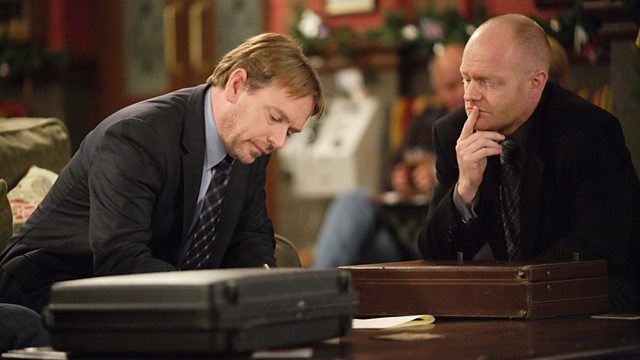 01/12/2009
Isaacs reminds Phil he's got until 5pm to repay his loan. Max doesn't want to go ahead with the scam now that Masood's involved, but Phil threatens to tell Tanya everything. Ian gets the cash together for the deal, but then receives a visit from Archie.
Phil and Max are relieved when Ian and Masood arrive at the Vic to finalise the deal. However, when Max hands Ian the contract he signs it 'Mickey Mouse' - Masood and Ian know what Phil and Max are up to.
Isaacs and his heavies walk into the Vic. Ian and Masood thank Archie for warning them about the scam. Max despairs, but doesn't tell Tanya anything about the scam, or their money worries. Ben finds Phil lying in the Vic sitting room, unconscious, bloodied and beaten.
Whitney can't stop thinking about Tony. Bianca tries to distract her, suggesting that she apply for a fashion course. Whitney writes a letter to Tony.
Amira admits she hasn't been visiting her dad in prison. Masood offers to help Amira with her rent until she and Syed are married. When the property deal falls through Masood's forced to ask Janine for more taxi shifts.
Whilst delighted to receive a letter from Stacey, Jean can't help worrying about the list of scribbled out names on the back. She calls Stacey's care coordinator and discovers Stacey's been moved to a less secure ward.
Liz has decided to move back to Spain and asks Patrick to look after Sugar. Pat tells Patrick that Liz wants him to ask her to stay, but he's too stubborn to do so.
Roxy works out that Owen's the father of Ronnie's baby; Ronnie tells her that Owen doesn't know.
Last on