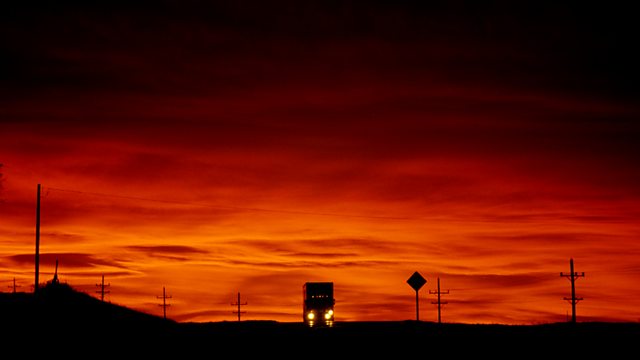 30/11/2009
Including:
1.00am
Debussy, Claude (1862-1918): Sonata in G minor for violin and piano
1.15am
Messiaen, Olivier (1908-1992): Theme et variations for violin and piano
1.25am
Prokofiev, Sergey (1891-1953): Sonata in D for violin and piano No 2, Op 94a (arr. from Sonata for flute and piano, Op 94)
1.48am
Massenet, Jules (1842-1912), arr. Marsick for violin and piano: Meditation (Thais)
Alina Ibragimova (violin)
Huw Watkins (piano)
1.54am
Mozart, Wolfgang Amadeus (1756-1791): Davidde Penitente, K469 - cantata for two sopranos, tenor, choir and orchestra
Krisztina Laki, Nicole Fallien (sopranos)
Hans-Peter Blochwitz (tenor)
Netherlands Chamber Choir
La Petite Bande
Sigiswald Kuijken (conductor)
2.42am
Bach, Johann Sebastian (1685-1750): Brandenburg Concerto No 6 in B flat, BWV1051
Zoltan Benyacs, Jouke van der Leest (violas)
Netherlands Radio Chamber Orchestra
Jerzy Maksymiuk (conductor)
3.01am
Stobaeus, Johann (1580-1646): Du bist meine Zuversicht - psalm motet for 6 voices (Epithalamion in honour of Iacobo Lobel, Danzig, 1636)
Ensemble Weser Renaissance (voices and continuo)
Manfred Cordes (conductor)
3.04am
Eccard, Johann (1553-1611): Cui pia contingit divino munere conjunx (Wedding song for 6 voices - Epithalamion in honorem nuptiarem Benh. Thegij, Konigsberg, 1601)
Ensemble Weser Renaissance (a capella)
Manfred Cordes (conductor)
3.08am
Naumann, Johann Gottlieb (1741-1801): Harpsichord Concerto in B flat, C1137
Gerald Hambitzer (harpsichord)
Concerto Koln
3.23am
Dobrzynski, Ignacy Feliks (1807-1867): String Quartet No 1 in E minor, Op 7 (1829)
Camerata Quartet
3.53am
Scriabin, Alexander (1872-1915): Fantasy in A minor for two pianos
Aglika Genova, Liuben Dimitrov (pianos)
3.58am
Rachmaninov, Sergey (1873-1943): Italian Polka - for two pianos
Ruta Ibelhauptiene, Zbignevas Ibelhauptas (pianos)
4.01am
Sibelius, Jean (1865-1957): Luonnotar, Op 70 (1913) - tone poem for soprano and orchestra
Soile Isokoski (soprano)
Finnish Radio Symphony Orchestra
Jukka-Pekka Saraste (conductor)
4.09am
Kuula, Toivo (1883-1918): South Ostrobothnian Suite No 2, Op 20
Finnish Radio Symphony Orchestra
Jorma Panula (conductor)
4.33am
Gilson, Paul (1865-1942): Suite Nocturne, d'apres Aloysius Bertrand
Josef de Beenhouwer (piano)
4.49am
Mosonyi, Mihaly (1814-1870): Unnepi zene (Festival Music)
Hungarian Radio Orchestra
Adam Medveczky (conductor)
5.01am
Svendsen, Johann (1840-1911): Festival Polonaise, Op 12 - for orchestra
Bergen Philharmonic Orchestra
Philippe Jordan (conductor)
5.10am
Strauss, Richard (1864-1949): Ewig einsam/Wenn du einst die Gauen (Guntram, Op 25)
Ben Heppner (tenor)
Toronto Symphony Orchestra
Andrew Davis (conductor)
5.23am
Anonymous c.1590: Des boosdoeners Wille seer quaet (Psalm 36); Staat op Heer toont V onversacht (Psalm 68); Bewaert mij Heer Weest doch myn toeverlaet (Psalm 16); Psalm 5
Okke Dijkhuizen (organ of Krewerd Herwormde Kerk, unknown builder, built c.1531)
5.30am
Sweelinck, Jan Pieterszoon (1562-1621): Six Variations on a Folk Melody
Bulgarian Academic Wind Quintet
5.38am
Kunileid, Aleksander Saebelmann (1845-1875): Mu Isamaa On Minu Arm (My Fatherland you are my love)
Estonian Radio Mixed Choir
Toomas Kapten (conductor)
5.41am
Kunileid, Aleksander Saebelmann (1845-1875): Sind Surmani (Until I die)
Estonian Philharmonic Chamber Choir
Tonu Kaljuste (director)
5.45am
Stoyanov, Veselin (1902-1969): Violin Concerto in F minor (1948)
Valentin Stefanov (violin)
Bulgarian National Radio Symphony Orchestra
Jordan Dafov (conductor)
6.06am
Haydn, Joseph (1732-1809): Keyboard Sonata in C, H XVI 35
Andreas Staier (fortepiano)
6.18am
Vladigerov, Pancho (1899-1978): Improvisation and Toccata for orchestra, Op 36 (1942)
Bulgarian National Radio Symphony Orchestra
Alexander Vladigerov (conductor)
6.31am
Schumann, Robert (1810-1856): Introduction and Allegro appassionato, Op 92
Ivan Palovic (piano)
Radio Bratislava Symphony Orchestra
Ondrej Lenard (conductor)
6.48am
Handel, George Frideric (1685-1759): Prelude-Chaconne; Sarabande; Gigue; Air; Ballo (Terpsichore)
English Baroque Solists
John Eliot Gardiner (conductor).
Last on