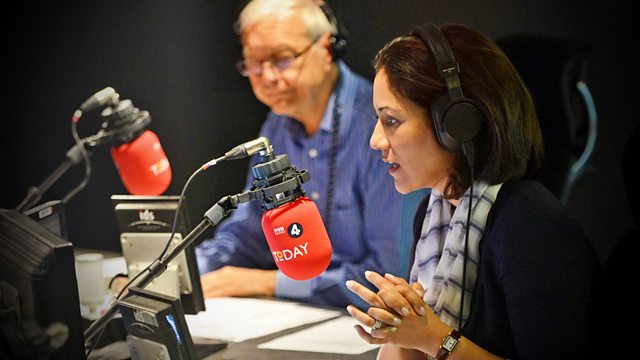 30/11/2009
Presented by James Naughtie and Evan Davis.
Iran has announced that it intends to build ten new uranium enrichment plants. The foreign secretary, David Miliband, says Tehran has chosen to 'provoke and dissemble' instead of talking, despite a willingness in London and other capitals to support a civilian nuclear programme. Israel has been sceptical about attempts to reopen a diplomatic dialogue with Iran and Israel's ambassador to the UK, Ron Prosor, argues that sanctions do work.
State-owned Dubai World's debt problems pose a problem not just for Dubai but potentially for the rest of the world. The news that Dubai wanted to suspend payments on its debt shook worldwide financial markets last week, but should it have been a shock? Why were we so ignorant? Dr Christopher Davidson of Durham University argues that British banks were exposing themselves to risky foreign debt.
A new drug which apparently has an effect similar to that of LSD and cocaine is becoming increasingly popular - and it's legal. It's called mephodrone, and it's being sold on the internet and is available in 'alternative' shops. Joe Crowley reports for Inside Out on BBC1 and Professor Fabrizio Schifano, Professor of Clinical Pharmacology at the University of Hertfordshire, describes its risks and popularity among young people.
The Liberal Democrats are announcing their tax policy, which they say is the most radical for a generation. The party's leader Nick Clegg outlines the plans.
Tiger Woods has hit out at 'unfounded rumours' circulating since his car accident in the early hours of Friday. The media is awash with rumours - which have been denied - of an extramarital affair. It is the kind of story that the golfer has always seemed unlikely to get himself involved in. Nigel Curry, a sports brand manager with Bran Rapport, and golf writer Mike Aitken discuss the incident.
Thought for the Day with John Bell.
The regional newspaper publisher Johnston Press, whose titles include the Worksop Guardian and the Whitby Gazette, is to start charging for web access to those papers. This news follows the announcement by Rupert Murdoch that he was trying to find ways of getting people to pay for web content for his papers, including The Times. Technology correspondent Rory Cellan Jones reports on the announcement. Emily Bell, director of digital content at The Guardian, and Roger Parry, former chair of Johnston Press, discuss how the model will work.
Share prices have fallen sharply in the United Arab Emirates, as investors react to the debt crisis in Dubai. Economics correspondent Stephanie Flanders, Sir Howard Davies, Director of the London School of Economics, and Terry Smith, chief executive of the money brokers Tullett Prebon, debate the future of the Emirate's economy.
The Bishop of Croydon, the Rt Rev Nick Baines, has said that the most popular carols and nativity plays are becoming stripped of some of their Christian significance. He talks about it in a short book just out: Why Wish You a Merry Christmas? He debates the nature of Christmas celebration with The Guardian's Madeleine Bunting, who often writes on religious matters.
The Royal Society celebrates its 350th anniversary next year, launching a new website featuring some of the most exciting and influential discoveries published in its journals, from Isaac Newton's explanation of the rainbow to Crick and Watson's description of the structure of DNA. Our science correspondent Tom Feilden reports on the fascinating archive.
The government's youth rehabilitation order comes into effect in England today. Ministers describe it as a system of 'smarter punishments' giving judges and magistrates a choice of 18 options for under-18-year olds from which to choose sentences that fit the crimes and the individuals. The justice secretary Jack Straw outlines the new system.
A White House spokesman has said time is running out for Iran to address concerns about its nuclear programme, after the country announced its intention to build 10 new uranium enrichment plants. The BBC's Middle East editor Jeremy Bowen analyses the current situation.
Research by Cambridge University has established that only a river separated Great Britain from what is now France and the Low Countries. Soil samples have proved that it was once possible to walk across what is now the English Channel and the North Sea before sea levels rose about half a million years ago. Prof Phil Gibbard, from Cambridge's Department of Geography, explains the findings.
Previously secret papers held in the national archives reveal how far Winston Churchill went in his efforts to keep Spain neutral during World War II. Tonight's Document programme, broadcast at 8pm on Radio 4, tells the story of how Churchill sanctioned multi-million-pound bribes to some of Franco's top generals who pledged to stop their leader joining Hitler. Mike Thomson reports.
There will be no such thing as a typical family in the next decade accordin
Last on