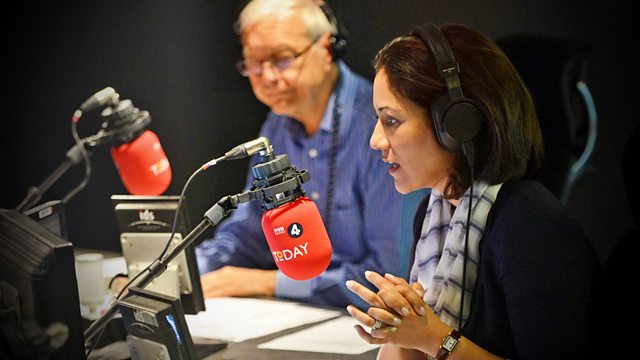 28/11/2009
Presented by Justin Webb and Evan Davis.
At least 25 people have died in a train crash in Russia. Reports suggest that the Russian prosecutor-general has opened a case into possible terrorism charges. Moscow correspondent Richard Galpin reports on the latest developments.
Gordon Brown has made proposals for a fund to help poor countries reduce their greenhouse emissions. The prime minister was speaking at the Commonwealth summit in Trinidad. Correspondent Jonathan Beale discusses the meeting.
Preparations for the last big Nazi war crimes trial are underway in Germany. John Demjanjuk will stand trial accused of participating in the murder of more than 27,000 Jews at the Sobibor death camp in Poland. Correspondent Steve Rosenberg reports from the site of the camp.
Hundreds of people with terrible industrial diseases are dying without receiving compensation because they are unable to trace the firms that insured their employers. Latest figures reveal that a voluntary tracing scheme has failed to help find the money. The government is now warning that it may force insurance companies to set up a special fund to assist those who are unable to get compensation. Correspondent Bob Walker outlines the compensation battle.
The former Conservative peer Lord Pearson has been elected the new leader of the UK Independence Party (UKIP). In his victory speech, Lord Pearson outlined ambitions to win enough support to force a hung Parliament in next year's general election. Lord Pearson discusses his strategy.
The public inquiry into the Iraq War has completed its first week. Correspondent Peter Hunt examines its opening days.
Thought for the Day with Rev Roy Jenkins, a Baptist minister in Cardiff.
The Today programme has been hearing from Major Richard Streatfeild, who is serving with the Rifles in Helmand province. In his latest despatch, Major Streatfeild describes the dangers of an IED explosion.
Are hospital inspections working? Another eight foundation hospitals are being investigated for possible poor performance after action was taken against two foundation hospitals in Essex earlier this week. The government has ordered a review to see if any hospitals require immediate action. Roger Taylor, director and co-founder of Dr Foster Intelligence, and Julian Le Grand, chairman of the LSE Health group, examine the system of hospital regulation.
A train derailment which has killed 25 people in Russia may have been caused by a bomb, according to the train operating company. 660 passengers were on the train travelling between Moscow and St Petersburg. Moscow correspondent Richard Galpin reports on the latest developments on the crash.
An art exhibition in east London is giving punters the opportunity to barter for expensive works of art. Art Barter is selling contemporary works by artists such as Tracey Emin and Gavin Turk, for anything but cash. Today presenter Evan Davis went to take a look.
The financial system was shocked this week after the announcement by state-owned investment company Dubai World that it is suspending interest payments on part of its 60 billion-dollar debts. The growth of the Emirate has been remarkable with the population increasing to over a million, 20 times more than 40 years ago. Journalist Andrew Neil and writer Will Self reflect on Dubai's rise and fall.
What has been learnt from the first week of the Chilcot inquiry into the Iraq war? Guardian columnist Simon Jenkins likened the inquiry to a circus. Mr Jenkins and Peter Hennessy, Whitehall historian, discuss whether the inquiry will have any affect.
A Belgian man who was thought to be in a coma has been found to be completely conscious. Carers for Rom Houben say that despite being paralysed he has started to communicate via small finger movements. Some neurologists have reacted with scepticism to the news. Martin Pistorious, who contracted meningitis and now uses a computer to speak, discusses how he felt being trapped in his own body.
The winner of the Bad Sex in Fiction awards will be announced on Monday. The annual awards, now in their 17th year, celebrate the most embarrassing passage of sexual description in a literary novel from the last 12 months. Although last year's winner was a women, Rachel Johnson, the shortlist this year suggest that the serial offenders are male novelists of a certain age. Authors Lionel Shriver and Howard Jacobsen discuss what makes cringeworthy prose.
Last on