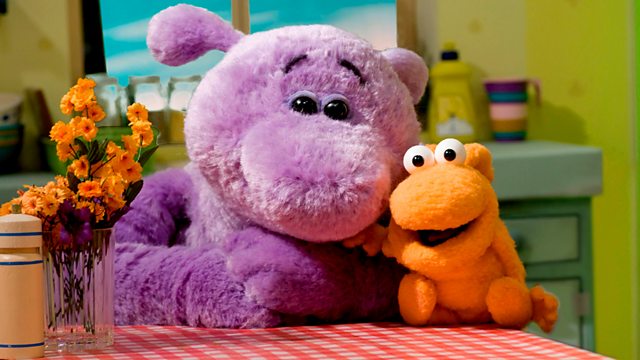 Small reads about a babysitter who never says no to their charges and he likes the sound of that! Small insists that he needs a babysitter one night when Big goes out to look at the stars. It can't be Ruby because Ruby is always saying no to Small, so Big asks Twiba and Twiba agrees: mainly because she fancies a night in the house. Small wants Twiba to do a bunch of fun things but Twiba insists on having a long, hot bath first.
After that she still refuses to play games but asks Small to dry her hair. When Small turns on the hairdryer the force of the blast of air sends Twiba flying across the room! Twiba is too distraught to play any games. Instead, Small has to put her to bed and read her story: and she promptly falls asleep.
When Big comes home Small rushes to greet him. Twiba was a terrible babysitter, he cries out - he ended up babysitting her! Big realises that what Small really needed was a pal to play with, not a babysitter. They open up a pack the cards and have a game of go fish.
Last on
Credits
| Role | Contributor |
| --- | --- |
| Voice of Big and Small | Lenny Henry |
| Voice of Twiba and Ruby | Imelda Staunton |
| Director | Wayne Moss |
| Director | Wayne Moss |
| Producer | David Collier |
| Producer | David Collier |
| Producer | Sharon Summerling |
| Producer | Sharon Summerling |
| Puppeteer | Todd Doldersum |
| Puppeteer | Todd Doldersum |
| Puppeteer | Jason Hopley |
| Puppeteer | Jason Hopley |
| Puppeteer | Jamie Shannon |
| Puppeteer | Jamie Shannon |
| Puppeteer | Caitlin O'Reilly |
| Puppeteer | Caitlin O'Reilly |
| Puppeteer | Darren Pickering |
| Puppeteer | Darren Pickering |