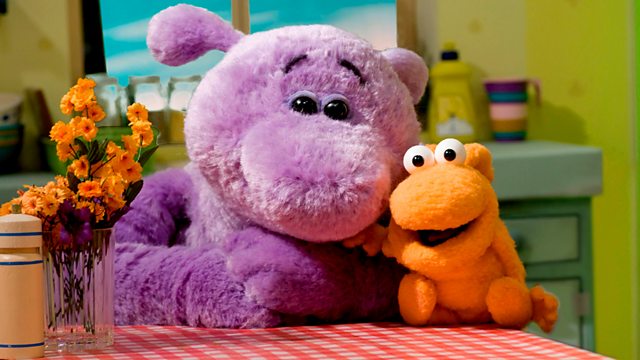 Small finds out that Big is making Ruby a trampoline. Big tells Small not to say anything to Ruby because that would spoil the surprise. Small promises not to tell. In return Big promises that he will make a trampoline for Small.
Small finds it really hard to keep quiet and he gives Ruby hints about the surprise. She guesses what Big is doing and thanks him, spoiling the surprise and revealing that Small broke his promise to Big. Big is very hurt. But then he realises that he hasn't made Small a trampoline so he broke his promise as well.
Both friends are pretty miserable until Ruby pulls them both onto the trampoline and the three of them bounce away their worries. You have to smile when you're jumping on a trampoline!
Last on
Credits
| Role | Contributor |
| --- | --- |
| Voice of Big and Small | Lenny Henry |
| Voice of Twiba and Ruby | Imelda Staunton |
| Director | Wayne Moss |
| Producer | David Collier |
| Producer | Sharon Summerling |
| Puppeteer | Todd Doldersum |
| Puppeteer | Jason Hopley |
| Puppeteer | Jamie Shannon |
| Puppeteer | Caitlin O'Reilly |
| Puppeteer | Darren Pickering |