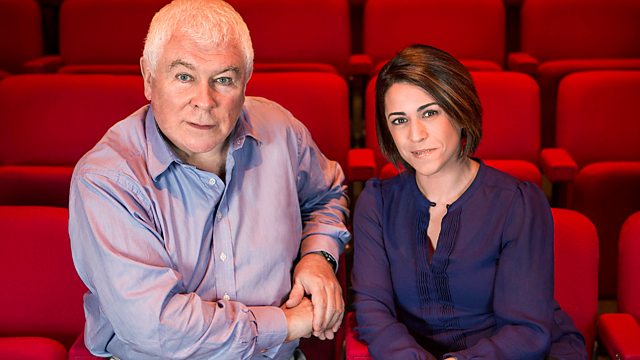 25/11/2009 David Robertson, Joglaresa
Sean Rafferty presents a selection of music and guests from the arts world.
Sean is joined by celebrated principal guest conductor of the BBC Symphony Orchestra, David Robertson, ahead of a performance of Mozart's Requiem at the Barbican, London.
Plus energetic early music band Joglaresa performing music based on stories drawn from Scandinavian and Celtic traditions ahead of their 'Four Thousand Winters' tour.
17:02
SHOSTAKOVICH
Tahiti Trot
Radio France Philharmonic Orchestra
Conductor Paavo Jarvi
VC 5 45609 2
Track 12
3.32
17:06
DEBUSSY
Jardins sous la pluie (Estampes)
Aldo Ciccolini (piano)
EMI CDC 7 54447 2
Track 3
3.39
17:11
LIVE
Traditional
Blow Northern Wynd
Joglaresa –
Belinda Sykes (voice)
Sally Pomme Clayton (storyteller)
Tim Garside (kantele, percussion, dulcimer)
Jean Kelly (harp)
Dermot Crehan & Jim O'Toole (fiddles)
3.29
17:21
LIVE
Traditional
The White Bear King (excerpt including The Truth From Above)
Joglaresa
6.46
17.32
LIVE
Traditional
Miri it is/Old Hag/Toss the Feathers
Joglaresa
3.53
17:36
GRIEG
Peer Gynt: Suite No 1
CBSO
Conductor Sakari Oramo
Erato 8573 82917 2
Track 1-4
15.45
17:54
SCHUBERT
Winterreise: Der Lindenbaum
Mark Padmore (Tenor)
Paul Lewis (Piano)
Harmonia Mundi HMU 907484
Track 5
4.56
18:03
JAKUB JAN RYBA
Rozmily slavicku
Magdalena Kozena (mezzo-soprano)
Capella Regia Musicalis
Director Robert Hugo
Archiv 477 836 5
Track 1
4.23
18:08
SCHUBERT
Sonata in A, D959 (3rd movement)
Paul Lewis (piano)
HMC 901800
Track 3
5.08
18:13
JOSQUIN
Nymphes des Bois (Deploration sur la morte de Johannes Ockeghem)
The Clerks' Group
Director Edward Wickham
PROU CD 133
Track 10
4.43
18:25
BOULEZ
Rituel in memoriam Bruno Maderna (extract)
Orchestre National de Lyon
Conductor David Robertson
Naïve MO 782163
Track 1
4.52
18:37
ADAMS
Doctor Atomic Symphony (III: Trinity)
Saint Louis Symphony Orchestra
Conductor David Robertson
Nonesuch 7559-79932-8
Track 3
7.08
18:46
BEETHOVEN
Zartliche Liebe
Fritz Wunderlich (tenor)
Hubert Giesen (piano)
Deutsche Grammophon
CD 6 Track 15
2.11
18:49
ALBINONI
Concerto in C for trumpets, 3 oboes & bassoon
Crispian Steele-Perkins (trumpet)
Tafelmusik
Director Jeanne Lamon
Sony SK 53 365
TR 12-14
9.40
Last on