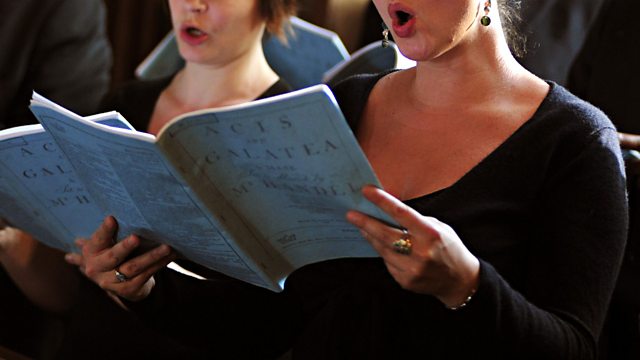 Let The Peoples Sing
Aled Jones presents coverage of the final of the biennial Let The Peoples Sing amateur choir contest, which in 2009 is held in Oslo.
Including performances from the nine finalists: choirs spanning thousands of miles - from Latvia to Canada, Germany to Finland - competing in three categories: adult, youth and children. This is the one of the highest accolades for any non-professional choir in the world, and the music in the final encompasses everything from traditional favourites to folk music and choral showpieces.
Aled is joined in the studio by Michael Emery, BBC Singers producer and a member of the jury panel. They showcase some of the highlights of the contest, discuss what went right and wrong for the competing choirs, before revealing the winner.
Playlist
Recorded at the Let the People Sing competition in Oslo on 19 October 2009:
Gyorgy Ligeti
Reggel
Vienna Chamber Choir, conducted by Michael Grohotolsky
Gustav Mahler
Die zwei blauen Augen
Vienna Chamber Choir, conducted by Michael Grohotolsky
Robert Sund
I wandered lonely as a cloud
Camerata Musica Limburg, conducted by Jan Schumacher
Jurijus Kalcas
Exultate Deo
Camerata Musica Limburg, conducted by Jan Schumacher
Knut Nystedt
O Crux
Sõla, conducted by Kaspars Adamsons
Traditional Latvian folk song
Kalējs kala debesīs (Blacksmith hammered in the sky)
Sõla, conducted by Kaspars Adamsons
Mia Makaroff
Kylyn kyselijä (The sauna seeker)
Philomela, conducted by Marjukka Riihimäki
Morten Lauridsen
Ov'é lass', il bel viso?
Nova, conducted by Anne Karin Sundal-Ask
Odd Johan Overøye
Laudes
Nova, conducted by Anne Karin Sundal-Ask
Giles Swayne
Magnificat I
Nova, conducted by Anne Karin Sundal-Ask
Matthew King
On London Fields (excerpt)
private recording
Recorded at the Let the People Sing competition in Oslo on 19 October 2009:
Javier Busto
Zai ixtoiten
Hamilton Children's Choir, conducted by Zimfira Poloz
Veljo Tormis
Bridge of song, Wind over the wilderness, Heather
Girls' Choir of the Old Town Music House, conducted by Maarja Soone
Józef Swider
Cantus Gloriosus
Adam Mickeiwicz University Chamber Choir, Poznan, conducted by Krzysztof Szydzisz
Jacek Sykulski
Zbójnicki
Adam Mickeiwicz University Chamber Choir, Poznan, conducted by Krzysztof Szydzisz
Traditional arr. Ambroz Copi
Da lipa ma! Ke bëj na jë? (O love of mine, where has she gone?)
Girls Chamber Choir of the Classical Diocesan Gymnasium, conducted by Helena Fojkar Zupancic
Ambroz Copi
Ave Maria
Girls Chamber Choir of the Classical Diocesan Gymnasium, conducted by Helena Fojkar Zupancic
György Orbán
Lauda Sion
Girls Chamber Choir of the Classical Diocesan Gymnasium, conducted by Helena Fojkar Zupancic
Trad. Arr. Radovan Gobec
Ne óuri, ne sejaj (Do not plough, do not sow)
Girls Chamber Choir of the Classical Diocesan Gymnasium, conducted by Helena Fojkar Zupancic
Last on