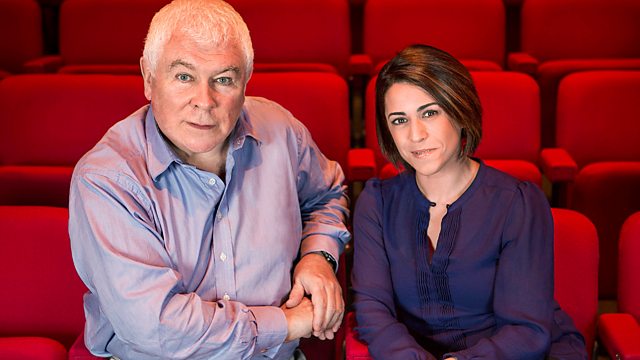 12/11/2009 Michael McHale, John Surman
Sean Rafferty presents a selection of music and guests from the arts world.
With emerging young pianist Michael McHale previewing his performance at Kings Place in London, plus celebrated jazz clarinettist/saxophonist John Surman playing the studio. John is performing at the Queens Elizabeth Hall as well as giving master classes as part of the 2009 London Jazz Festival.
17:02
DEBUSSY (orch Ravel)
Danse Styrienne
Philadelphia Orchestra
Eugene Ormandy (conductor)
SONY 88697572792
Tr 5
5'17
17:08
SURMAN
At Dusk
John Surman (saxophone)
Trans4mation (quartet)
Chris Laurence (double bass)
ECM 1702
Tr 1
2'08
17:11
LIVE
John FIELD
Nocturne No.10 in E minor
Michael McHale
3'14
17:19
LIVE
Philip HAMMOND
Midnight Shadows
Michael McHale
5'34
17:28
LIVE
BEETHOVEN
Sonata for piano No. 8 (Op.13) in C minor "Pathetique": Finale
Michael McHale
4'33
17:34
Pietro NARDINI
Violin Concerto in G major
Giuliano Carmignola (violin)
Venice Baroque Orchestra
Andrea Marcon
ARCHIV 477 6606
Tr 7-9
16'27
17:51
ELLINGTON
It don't mean a thing (if it ain't got that swing)
Ella Fitzgerald (vocals)
Duke Ellington Orchestra
Duke Ellington (director)
VERVE 833 291-2
Tr 11
7'04
18:03
TCHAIKOVSKY
Sleeping Beauty, Op.66: March Act 3, No.21
London Symphony Orchestra
Andre Previn (conductor)
EMI 9676892
CD 2 Tr 10
3'20
18:07
BYRD
Cantiones Sacrae, 1589, No. 14, Vigilate
Choir of Trinity College, Cambridge
Richard Marlow (director)
CHAN0733
Tr 14
4'14
18:12
LIVE
SURMAN
Improvisation
John Surman (saxophone)
3'48
18:22
LIVE
SURMAN
Improvisation
John Surman (saxophone)
5'06
18:33
Billy STRAYHORN
Chelsea Bridge
John Surman (saxophone)
John Abercrombie (guitar)
Drew Gress (double-bass)
Jack DeJohnette (drums)
ECM 2046
Tr 5
5'48
18:40
BACH
Keyboard Concerto No. 4 in A Major BMV 1055
Angela Hewitt (piano)
Australian Chamber Orchestra
Richard Tognetti (director)
HYPERION CDA67607/8
CD 2 Tr 1-3
13'35
18:55
BRAHMS
Nachtwandler Op. 86 No. 3
Simon Keenlyside (baritone)
Malcolm Martineau (piano)
SONY 88697566892
Tr 15
4'04
Last on