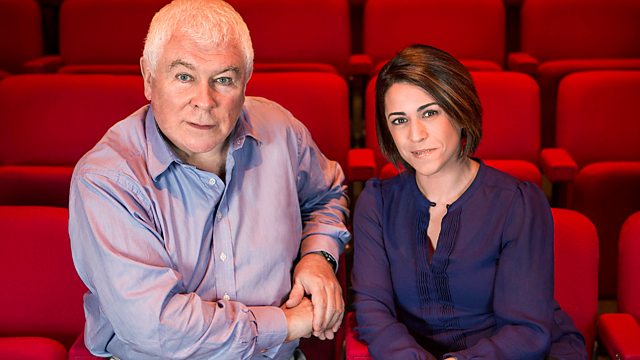 09/11/2009 Artur Pizarro, Bryan Hymel, Simon Lepper, Rodrigo y Gabriela
Sean Rafferty presents a selection of music and guests from the arts world.
Portuguese pianist Artur Pizarro performs ahead of his concert at the Wigmore Hall, where plays the complete Iberia suite by Albeniz.
American tenor Bryan Hymel and pianist Simon Lepper preview their concert at St John's, Smith Square in London. The repetoire includes Handel, Gluck, Bizet and Puccini.
And Mexican guitarists Rodrigo and Gabriela play in the studio before starting their UK tour.
17:02
MOZART
The Magic Flute; Overture
Berlin Philharmonic Orchestra
Karl Böhm (conductor)
DG 0028948026258
Tr. 1
7'12
17:10
MUNDY
Sive vigilem
The Sixteen
Harry Christophers (conductor)
HYPERION CDS44410
CD 10 tr. 3
3'22
17:20
LIVE
ALBENIZ
Iberia; El Puerto (bk.1)
Artur Pizarro (piano)
3'42
17:24
LIVE
ALBENIZ
Iberia; Triana (bk.2)
Artur Pizarro (piano)
4'47
17:35
CHOPIN
Grande Valse Brillante Op.34'1
Artur Pizarro (piano)
5'35
17:41
GERSHWIN
Prelude no.2
Michel Lethiec (clarinet)
Sinfonia Finlandia Jyväskylä
Patrick Gallois (conductor)
NAXOS 8.570939
Tr. 9
3'47
17:49
BEETHOVEN
Violin Concerto in D major; Rondo
Janine Jansen (violin)
Die Deutsche Kammerphilharmonie Bremen
Paavo Järvi (conductor)
DECCA 478 1530
Tr. 3
9'12
18:03
MENDELSSOHN
Magnificat in D major
Yale Schola Cantorum
Yale Collegium Players
Simon Carrington (conductor)
NAXOS 8.572161
Tr. 1
3'32
18:08
SATIE
Choses vues à droite et à gauche (sans lunettes)
Chantal Juillet (violin)
Pascal Roge (piano)
DECCA 455 401-2
Tr. 33-35
4'22
18:13
RODRIGO SANCHEZ/GABRIELA QUINTERO
LIVE
Tamacun
Rodrigo y Gabriela
4'20
18:23
RODRIGO SANCHEZ/GABRIELA QUINTERO
LIVE
11:11
Rodrigo y Gabriela
4'49
18:32
RODRIGO SANCHEZ/GABRIELA QUINTERO
LIVE
Buster Voodoo
Rodrigo y Gabriela
4'38
18:38
SALAZAR
O sacrum convivium
The Choir of Westminster Cathedral
James O'Donnell (director)
HELIOS CDH55317
Tr. 8
3'07
18:43
BACH
Brandenburg no.2 in F major, BWV.1047
Il Giardino Armonico
Giovanni Antonini (director)
ELATUS 2564617732
Tr. 5-7
10'49
18:55
LIVE
MEYERBEER
O Paradis (L'Africaine)
Bryan Hymel (tenor)
Simon Lepper (piano)
3'40
19:05
LIVE
PUCCINI
Recondita armonia (Tosca)
Bryan Hymel (tenor)
Simon Lepper (piano)
2'18
19:13
LIVE
TOSTI
L'alba separa dalla luce l'ombra
Bryan Hymel (tenor)
Simon Lepper (piano)
2'22
19:17
TCHAIKOVSKY
Swan Lake: Act 4 Scene and Finale
London Symphony Orchestra
André Previn (conductor)
EMI 967684-2
CD 2 tr. 26-27
9'44
19:27
VERDI
Un ballo in maschera: Volta la terra
Diana Damrau (soprano)
Munchner Rundfunkorchester
Dan Ettinger (conductor)
VIRGIN CLASSICS 50999 519313 2 2
Tr. 7
2'05
Last on
In Tune Sessions: Proms special