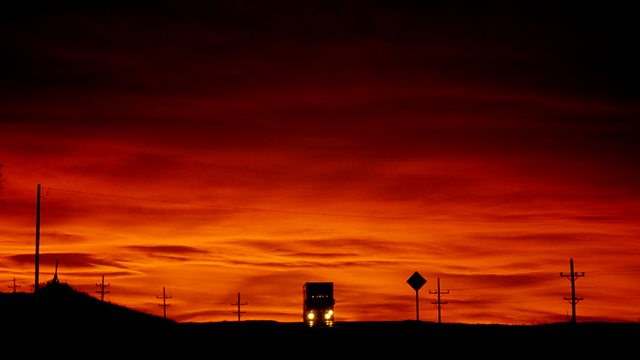 06/11/2009
Including:
1.00am
Mendelssohn, Felix (1809-1847): Overture (Ruy Blas, Op 95)
1.09am
Mendelssohn: Symphony No 4 in A, Op 90 (Italian)
1.38am
Brahms, Johannes (1833-1897): Symphony No 2 in D, Op 73
BBC Symphony Orchestra
Jiri Belohlavek (conductor)
2.22am
Chopin, Fryderyk (1810-1849): 24 Preludes for piano, Op 28
Nikita Magaloff (piano)
3.01am
Wilms, Johann Wilhelm (1772-1847): Rondo - Polonaise in D pour le pianoforte (1809)
Arthur Schoonderwoerd (fortepiano)
3.07am
Weber, Carl Maria von (1786-1826): Rondo brillante in E flat, Op 62 (La gaiete for piano)
Niklas Sivelov (piano)
3.14am
Mendelssohn, Felix (1809-1847): Rondo capriccioso in E major/minor for piano, Op 14
Sook-Hyun Cho (piano)
3.21am
Bruhns, Nicolaus (1665-1697): Jauchzet dem Herren alle Welt - cantata for voice, two violins, (bassoon) and continuo
Guy de Mey (tenor)
Ricercar Consort
3.33am
Hasse, Johann Adolf (1699-1783): Son qual misera Colomba (Cleofide)
Cleofide ...... Emma Kirkby (soprano)
Capella Coloniensis
William Christie (conductor)
3.39am
Mozart, Wolfgang Amadeus (1756-1791): Sinfonia concertante in E flat for oboe, clarinet, horn and bassoon, K297b
Bart Schneemann (oboe)
Harmen de Boer (clarinet)
Jacob Slagter (horn)
Ronald Karten (bassoon)
Nieuw Sinfonietta Amsterdam
Lev Markiz (conductor)
4.09am
Gershwin, George (1898-1937): Three Preludes (1926): No 1 in B flat; No 2 in C sharp minor; No 3 in E flat
Bengt-Ake Lundin (piano)
4.15am
Schoenberg, Arnold (1874-1951): Galathea and Mahnung (Brettl-Lieder/Cabaret Songs)
Jean Stilwell (mezzo-soprano)
Robert Kortgaard (piano)
4.23am
Rachmaninov, Sergei (1873-1943): Vocalise, Op 34 No 14
Toronto Symphony Orchestra
Mario Bernardi (conductor)
4.30am
Tallis, Thomas (c.1505-1585): Gloria (Mass Puer natus est nobis for seven voices)
BBC Singers
Stephen Cleobury (conductor)
4.39am
Byrd, William (c.1543-1623): Agnus Dei (Mass for five voices)
BBC Singers
Bo Holten (director)
4.43am
Verdi, Giuseppe (1813-1901): Overture (La forza del destino)
KBS Symphony Orchestra
Chi-Yong Chung (conductor)
4.51am
Casanova, Gion Balzer (b.194?): La sera sper il lag (Evening on the Lake)
4.54am
Derungs, Gion Antoni (b.1935): Sut steilas (Under the stars)
Cantus Firmus Surselva
Clau Scherrer (conductor)
4.56am
Derungs, Gion Giusep (b.1932): Al sulegl (To the sun)
Chor viril Lumnezia (Lumnezia Men's Chorus)
5.01am
Marais, Marin (1656-1728): La Sonnerie de Sainte-Genevieve du Mont de Paris for violin, bass viol and continuo
Ricercar Consort
Henri Ledroit (conductor)
5.10am
Rouget de Lisle, Claude-Joseph (1760-1836), arr. Stravinsky: La Marseillaise
Alina Ibragimova (violin)
5.11am
Haydn, Joseph (1732-1809) or possibly Pleyel, arr Perry, Harold: Divertimento in B flat, H II 46 (Feldpartita)
Bulgarian Academic Wind Quintet
5.21am
Richter, Franz Xaver (1709-1789): Concerto in D for trumpet, strings and basso continuo
Ivan Hadliyski (trumpet)
Kamerorchester
Alipi Haydenov (conductor)
5.37am
Weber, Carl Maria von (1786-1826): Perpetuum mobile (Sonata No 1 in C, J138)
Konstantin Masliouk (piano)
5.42am
Orff, Carl (1895-1982): In Trutina (Carmina Burana)
Yvonne Kenny (soprano)
Melbourne Symphony Orchestra
Vladimir Kamirski (conductor)
5.44am
Grieg, Edvard (1843-1907), arr Reger: I Love Thee, Op 5 No 3
Yvonne Kenny (soprano)
Melbourne Symphony Orchestra
Vladimir Karmiski (conductor)
5.47am
Strauss, Richard (1864-1949), arr Franz Hasenohrl: Till Eulenspiegel - Einmal Anders!
Festival Ensemble of the Festival of the Sound
James Campbell (conductor)
5.56am
Schubert, Franz (1797-1828): (12) Waltzes for piano, D969 (Valses nobles)
Artur Schnabel (piano)
6.04am
Strauss, Johann II. (1825-1899), arr Schoenberg: Rosen aus dem Suden (Roses from the South) - waltz for harmonium, piano and string quartet
Canadian Chamber Ensemble
Raffi Armenian (conductor)
6.13am
Kodaly, Zoltan (1882-1967): Adagio for violin and piano
Tamas Major (violin)
Zoltan Kocsis (piano)
6.22am
Kodaly, Zoltan (1882-1967): A song about King Stephen
Hungarian Radio Chorus
Peter Erdei (conductor)
6.27am
Porumbescu, Ciprian (1853-1883): Ballad for violin and orchestra
Ion Voicu (violin)
Bucharest Chamber Orchestra
Madalin Voicu (conductor)
6.33am
Constantinescu, Paul (1909-1963): Free Variations on Byzantium theme for cello and orchestra
Catalin Ilea (cello)
Romanian National Radio Orchestra
Carol Litvin (conductor)
6.44am
Brade, William (1560-1630): Turkische Intrada
Hesperion XX
6.48am
Bennett, Richard Rodney (b.1936), arr David Lindup: Murder on the Orient Express - music from the film
BBC Philharmonic
Rumon Gamba (conductor).
Last on