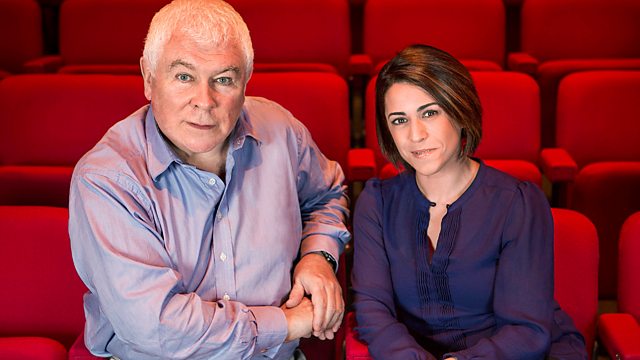 04/11/2009 Michael Tilson Thomas, Peggy Seeger
Sean Rafferty presents a selection of music and guests from the arts world.
With American conductor Michael Tilson Thomas in the studio before his concerts with the London Symphony Orchestra at the Barbican.
And renowned folk musician Peggy Seeger talks about her recent Ireland tour and upcoming concert at St David's Hall, Cardiff. Still practicing her politics, Peggy has recorded a series of songs in relation to the 2008 American presidential campaign.
17:02
ELGAR
Empire March
BBC Philharmonic
Andrew Davis (conductor)
CHANDOS CHAN 10570
CD 2 tr.22
4'37
17:08
SCHUMANN
Belsazar, Op.57
Ian Bostridge (tenor)
Julius Drake (piano)
EMI 556575-2
Tr. 10
4'35
17:13
STRAVINSKY
Circus Polka
London Symphony Orchestra
Michael Tilson Thomas (conductor)
RCA 09026 688652
Tr. 2
3'20
17:21
IVES
Putnam's Camp, Redding Connecticut (3 Places in New England)
San Francisco Symphony
Michael Tilson Thomas (conductor)
RCA 09026 637032
Tr. 8
5'17
17:33
MAHLER
Symphony no. 8 – Alles Vergängliche
San Francisco Symphony Chorus
San Francisco Symphony
Michael Tilson Thomas (conductor)
SFS 821936 0021-2
CD 2 tr.12
6'00
17:40
SCHUBERT
Quintet in C, D.956; Allegretto
Belcea Quartet
Valentin Erben (cello)
EMI 967025-2
CD 1 tr.4
9'32
17:50
SCARLATTI
Sonata in D Major K 278
Christian Zacharias (piano)
MDG 340 1162-2
tr. 10
2'14
17:53
ROSSINI
Una voce poco fa (Barber of Seville)
Teresa Berganza (Rosina)
London Symphony Orchestra
Claudio Abbado (conductor)
DG 0028948025272
Tr. 4
5'32
18:04
VAUGHAN WILLIAMS
The Running Set
Royal Liverpool Philharmonic Orchestra
James Judd (conductor)
NAXOS 8.572304
Tr. 13
6'13
18:10
BRAHMS
Capriccio, Op.116'3
Imogen Cooper (piano)
OTTAVO OTRC39027
Tr. 22
2'50
18:15
SEEGER
Bring Me Home
Peggy Seeger (vocals and guitar)
APPLESEED APRCD1106
Tr. 13
3'40
18:23
SEEGER
Cumberland Gap
Peggy Seeger (vocals)
FELLSIDE FECD105FEL
Tr. 1
1'56
18:30
MACCOLL
First Time Ever I Saw Your Face
Peggy Seeger (vocals and guitar)
APPLESEED APRCD1100
CD 2 tr.2
2'50
18:34
VIVALDI
Concerto in D major, RV.564
Il Giardino Armonico Milano
Giovanni Antonini (director)
TELDEC 4509945522
Tr. 1-3
10'15
18:45
SIBELIUS
Van det en drom (Did I just Dream?) Op. 37/4
Demanten pa marsson (The diamond on the march snow) Op. 36/6
Karita Mattila (soprano)
Ilno Ranta (piano)
ODE 1108-2
tr. 14-15
5'30
18:52
TCHAIKOVSKY
The Nutcracker; Grandfather's Dance
Orchestra of the Royal Opera House
Mark Ermler (conductor)
EM 88697581242
CD 1 tr. 6
7'22
Last on