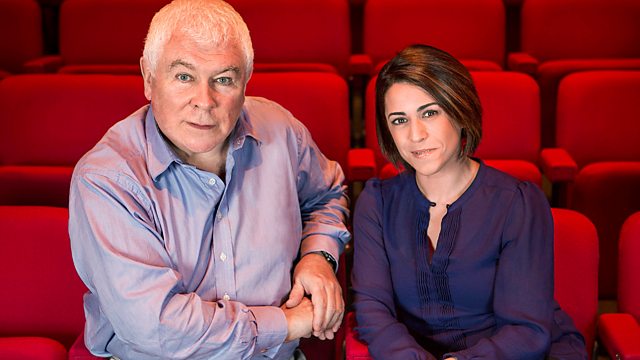 03/11/2009 ENO Double Bill, Shesh Besh
Sean Rafferty presents a selection of music and guests from the arts world.
Celebrated American director Daniel Kramer discusses the new opera and ballet double bill at English National Opera of Bartok's Duke Bluebeard's Castle and Stravinsky's The Rite of Spring.
And Arab-Israeli ensemble Shesh Besh, featuring members of the Israel Philharmonic Orchestra, performs in the studio ahead of its UK concerts.
17.02
TCHAIKOVSKY
Swan Lake (Waltz)
Israel Philharmonic Orchestra
Zubin Mehta (conductor)
TELDEC 4509 90201 2
Track 3
6'51
17.10
Adham Bek A'Santury
Longa Shahnaz
Shesh Besh – The Arab-Jewish Ensemble
ACUM
Track 10
2'34
17.13
BARTOK
Will you enter? (opening, Duke Bluebeard's Castle)
John Tomlinson (bass (Bluebeard)
Sally Burgess (mezzo-soprano (Judith)
Orchestra of Opera North
Richard Farnes (conductor)
CHANDOS CHAN3133
Track 2
3'30
17.21
BARTOK
The Armoury (Duke Bluebeard's Castle)
John Tomlinson (bass (Bluebeard)
Sally Burgess (mezzo-soprano (Judith)
Orchestra of Opera North
Richard Farnes (conductor)
CHANDOS CHAN3133
Tracks 8-9
4'29
17.31
BARTOK
Fifth Door (Duke Bluebeard's Castle)
John Tomlinson (bass (Bluebeard)
Sally Burgess (mezzo-soprano (Judith)
Orchestra of Opera North
Richard Farnes (conductor)
CHANDOS CHAN3133
Tracks 12-13
6'56
17.39
SCHUMANN
Kinderszenen Op. 15
Leif Ove Andsnes (piano)
EMI 6 98360 2
Tracks 20-32
19'01
18.03
KHACHATURIAN
Waltz (Masquerade)
Radio France Philharmonic Orchestra
Paavo Järvi (conductor)
VIRGIN 545 609 2
Track 2
4'08
18.08
SCHUBERT arr.Schoenberg
Standchen, D.889
LUIGI DENZA arr.Schoenberg
Funiculi-Funicula
Markus Schafer, tenor
Soloists of Lyons Opera Orchestra
ERATO 0630 13541
Tracks 7-8
4'35
18.14
BEETHOVEN
Violin Concerto in D, op.61 (final movement)
Janine Jansen (violin)
Deutsche Chamber-philharmonic Bremen
Paavo Jarvi (conductor)
DECCA 478 1530
Track 3
9'11
18.24
HANDEL
Nisi Dominus
Diana Montague (contralto)
John Mark Ainsley (tenor)
Simon Birchall (bass)
Choir and Orchestra of Westminster Abbey
Simon Preston (conductor)
ARCHIV 423 594 2
Tracks 10-15
12'14
18.37
LIVE MUSIC
JS BACH
Suite for Orchestra No. 2 BWV. 1067 in B
minor (7th movement – Badinerie)
M. SHELEM
Shibolet Basade (A Sheaf of Wheat in the Field)
Sami Khashibun (Oriental Violin)
Saida Bar-Lev (Violin and Viola)
Yossi Arnheim (Flute)
Alfred Hajar (Ney)
Ramsis Kasis (Oud)
Bishara Naddaf (Deff, Darbuka)
Peter Marck (Double Bass)
3'25
18.46
LIVE MUSIC
ASSI & MANSOUR RAHBANI
Nasam Alaina el Hawa (Air Blew on us)
Reham Hamadi (singer)
Sami Khashibun (Oriental Violin)
Saida Bar-Lev (Violin and Viola)
Yossi Arnheim (Flute)
Alfred Hajar (Ney)
Ramsis Kasis (Oud)
Bishara Naddaf (Deff, Darbuka)
Peter Marck (Double Bass)
3'35
18.53
LIVE MUSIC
SAMI KHASHIBOUN
Spring Longa
Sami Khashibun (Oriental Violin)
Saida Bar-Lev (Violin and Viola)
Yossi Arnheim (Flute)
Alfred Hajar (Ney)
Ramsis Kasis (Oud)
Bishara Naddaf (Deff, Darbuka)
Peter Marck (Double Bass)
2'52
18.58
CHOPIN
Waltz in A flat Op. 70
Ingrid Fliter (piano)
EMI 50999 69835124
Track 14
1'19
Last on
Matthew Kaner is the new 'Composer in 3'