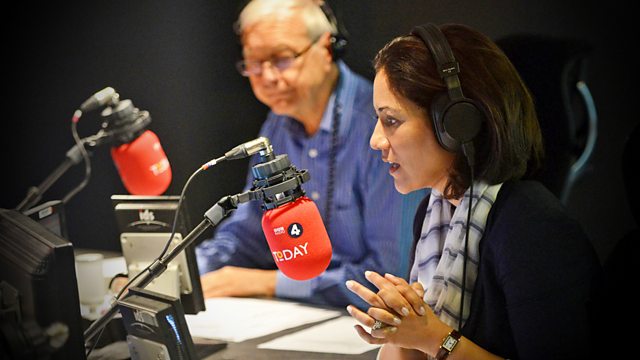 03/11/2009
Presented by Evan Davis and Justin Webb.
A major shake up of the banks propped up with government money has been unveiled, with announcements on the future of Lloyds and Royal Bank of Scotland. Financial Times columnist Gillian Tett examines the banking reform.
The use of aspirin to protect against cardiovascular disease should be abandoned, researchers have announced. New research has found that the drug can cause serious internal bleeding and does not prevent cardiovascular disease deaths. Dr Ike Iheanacho, editor of the Drug and Therapeutics Bulletin journal which conducted the research, explains the findings.
The government is setting out proposals for an overhaul of the funding of higher education in England. It is expected it will propose that students are treated more as paying customers and given better information about the quality of their courses before embarking on a degree. Secretary of State for Innovation and skills, Lord Mandelson, outlines the new plans.
Forecasts of a huge rise in obesity among children in England have been significantly downgraded following a new analysis of data. The National Heart Forum found that the rate of increase in childhood obesity may be starting to slow. Its figures suggest that by 2020 the proportion of teenage girls who will be obese is expected to be 9 per cent, not 30 per cent as previously predicted. Klim McPherson, Professor of Public Health at Oxford University and Chair of the National Heart Forum, examines the new trend.
The first anniversary of President Obama's election takes place tomorrow. A year after his election, Washington correspondent Kevin Connolly went to Colorado to talk to some of President Obama's supporters, to see if they are happy with his presidency.
Thought for the Day with Dr Indarjit Singh, director of the Network of Sikh Organisations.
Afghan President Hamid Karzai has given his first news conference since being declared president of Afghanistan, after election officials scrapped a planned second round of voting. Correspondent Ian Pannell comments on the speech and Nick Horne, former political affairs officer for the UN, who resigned a few days ago, examines the implications of President Karzai's victory.
New plans for a big shake-up of banks have been announced. Royal Bank of Scotland and Lloyds Banking Group are to sell off a large number of their branches after the European Commission demanded that banks bailed out by taxpayers should be scaled down. The changes will, it is hoped, ensure there is more competition for loans and mortgages in the banking industry. The Chancellor of the Exchequer, Alistair Darling, outlines the banking reforms.
The Czech constitutional court has ruled that the Lisbon Treaty is in line with the constitution, clearing the way for President Vaclav Klaus to sign it. The Eurosceptic Mr Klaus, who was awaiting the court's decision, has said he will no longer oppose the treaty. Correspondent Rob Cameron comments on the latest developments.
New plans for an overhaul of the higher education system are to be announced today. Shadow universities and skills minister, David Willetts, comments on the government's proposals.
A video appeal is being launched today by the Child Exploitation and Online Protection Centre (CEOP), aimed at pricking the conscience of any key witnesses involved in the disappearance of Madeleine McCann. Madeleine went missing two-and-a-half years ago while on holiday with her family in Portugal. The one-minute film includes fresh images of how Madeleine might look now, including one with dark brown hair and tanned skin in case she has been living in North Africa. It will be launched in several different languages. Jim Gamble, chief executive of CEOP, discusses the new approach in the search.
The pioneering soundtrack to David Attenborough's natural history series, Life on Earth, is being made commercially available on CD. The music was composed by a little-known English composer, Edward Williams. Mr Williams discusses the release of his works.
Progress on a deal over Iran's nuclear programme is coming to a halt, after Tehran failed to agree some of the points under negotiation. Recent talks in Vienna led to a proposal to enrich some of Iran's uranium outside the country and then return it for medical research use. It appeared at the time as if a deal had been agreed, but so far Tehran has not given an answer to the proposal. The head of the International Atomic Energy Agency (IAEA), which brokered the deal, has called for a quick response. America's ambassador to the IAEA, Glyn Davies, comments on the importance of a deal being brokered.
New plans for a big shake-up of banks have been announced. Changes to the asset protection scheme will ensure more competition in the banking industry. Liberal Democrat treasury spokesman Vince Cable and investor at Better Capital, Jon Moulton, examine the reforms.
Last on