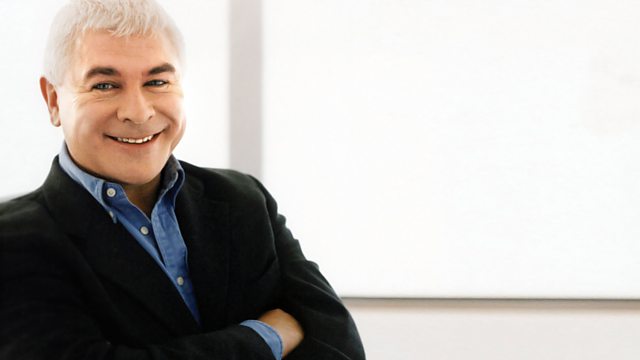 30/10/2009 John Lill, Madeleine Easton, Andrew Arthur
Sean Rafferty presents a selection of music and guests from the arts world.
With pianist John Lill playing ahead of his performance in the 2009 International Piano Festival at the Royal Festival Hall November.
And violinist Madeleine Easton and harpsichordist Andrew Arthur are also in the studio talking about the upcoming Hanover Band concert at Kings Place.
17:02
BEETHOVEN
Overture, The Creatures of Prometheus
Hanover Band
Roy Goodman (conductor)
NIMBUS NI 5205
T.7
4'58
17:08
BRAHMS
Intermezzo, Op.117 No.1
John Lill (piano)
SIGNUM SIGCD075
T.4
4'42
17:13
BACH
LIVE
Sonata for Violin in G BWV 1019 Allegro (Mvt 5)
Madeleine Easton (violin)
Andrew Arthur (harpsichord)
3'35
17:25
BACH
LIVE
Italian Concerto in F, D.971
Andrew Arthur (harpsichord)
13'31
17:40
RAUTAVAARA
Ehtoohymni (Evening Hymn)
The Choir of Clare College, Cambridge
Timothy Brown (conductor)
COLLEGIUM COLCD125
T.3
2'35
17:42
RACHMANINOV
Nyinye otpushchayeshi (Nunc dimittis)
Nicholas Mulroy (tenor)
The Choir of Clare College, Cambridge
Timothy Brown (conductor)
COLLEGIUM COLCD125
T.4
3'35
17:47
RAVEL
La Valse
Rotterdam Philharmonic Orchestra
Yannick Nézet-Séguin (conductor)
EMI 9 66342 2
T.12
12'27
18:03
BRUCKNER
Rondo in C minor
L'Archibudelli
SONY SK66 251
T.6
5'11
18:12
CHOPIN
LIVE
Nocturne in C minor, Op.48 No.1
John Lill (piano)
6'06
18:26
BEETHOVEN
LIVE
Sonata in C# minor, Op.27 No.2
John Lill (piano)
17'25
18:45
SCHUBERT
Final mvt. String Quartet in D minor, D.810
"Death and the Maiden"
Belcea Quartet
EMI 9 67025 CD.2 T.7
9'08
18:55
HANDEL
Eternal source of light divine
Orchestra of the Age of Enlightenment
Harry Christophers (conductor)
Heliodor 4765970
T.2
3'49
Last on