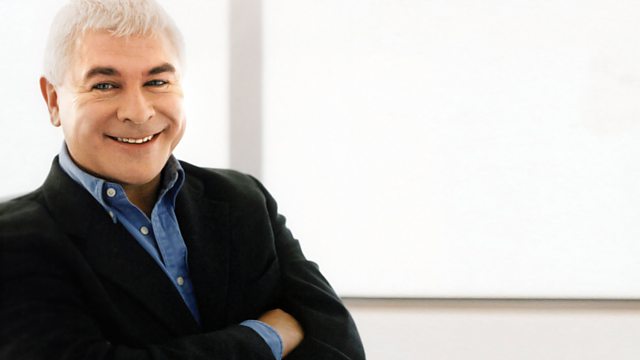 27/10/2009 Xuefei Yang, Ian Page, Andrew Staples, Rebecca Bottone
Sean Rafferty presents a selection of music and guests from the arts world.
Chinese guitarist Xuefei Yang plays in the studio ahead of her appearance at the 2009 London Guitar Festival. Her concert includes music by Goss, Albeniz and Regondi.
Conductor Ian Page, tenor Andrew Staples and soprano Rebecca Bottone discuss their upcoming performance of Arne's Artaxerxes at the Royal Opera House. The opera originally premiered at the Theatre Royal, the predecessor to the Opera House, in 1762.
17:02
ARNE
Artaxerxes: Overture
The Parley of Instruments
Roy Goodman (conductor)
HYPERION CDD22073
CD 1 Tr 1
4'55
17:08
SCHUBERT
Der Kreuzug, D.932
Matthias Goerne (baritone)
Ingo Metzmacher (piano)
HARM MUNDI HMC902035
Tr 18
4'10
17:13
He ZHANHAO, Chen GANG [arranged by Xuefei Yang]
Butterfly Lovers (first section)
Xuefei Yang (guitar)
LIVE
3'44
17:21
Steve GOSS
Jasmine Flower, from The Chinese Garden written for Xuefei Yang
Xuefei Yang (guitar)
LIVE
3'52
17:30
TARREGA
Variations on the Carnival of Venice
Xuefei Yang (guitar)
LIVE
7'18
17:38
RACHMANINOV
Trio Elegiaque no.1 in G minor
Lang Lang (piano)
Vadim Repin (violin)
Mischa Maisky (cello)
DG 4778099
Tr 1
14'48
17:55
PURCELL
Music for a While
James Bowman (counter-tenor)
Academy of Ancient Music
Christopher Hogwood (director)
DECCA 436 799-2
Tr 7
3'42
18:03
HAYDN
Sinfonia in D, 1a.7
Bavarian Radio Symphony Orchestra
Mariss Jansons (conductor)
BR KLASSIK 403571900102
Tr 1
4'30
18:10
ARNE
Artaxerxes: Air, "If the river's swelling waves" Act II
Rebecca Bottone (Semira)
Ian Page (piano)
LIVE
2'24
18:17
ARNE
Artaxerxes: Air, "Thou like the glorious sun" Act II
Andrew Staples (Artabanes)
Ian Page (piano)
LIVE
5'02
18:28
ARNE
Artaxerxes: Act III: Live to us, to Empire live.
The Parley of Instruments
Roy Goodman
HYPERION CDD22073
CD 2 Tr 25
3'19
18:32
GRAINGER
Molly on the Shore
City of London Sinfonia
Richard Hickox (conductor)
CHAN 10568(2)
CD 1 Tr 8
3'57
18:37
BACH
Trio Sonata no. 3 (BWV.1029) in G minor
Camerata Köln
CPO 777359-2
Tr 1-3
14'42
18:51
CHOPIN
Polonaise No. 6 in A Flat Major Op. 53
Piotr Anderszewski (piano)
VIRGIN CLASS 7243 5 45620 2 0
Tr 10
7'45
Last on