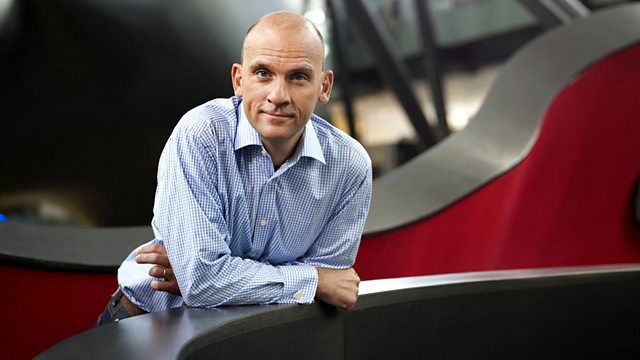 Led Bib in Session with Eddie Parker
Jez Nelson presents a session by maverick jazz group Led Bib, who are joined for the first time by reedsman Eddie Parker, a stalwart of the British jazz scene. The innovative London quartet perform tracks from their latest album, Sensible Shoes - nominated for the 2009 Mercury Music Award - as well as material created especially for the session.
Formed in 2003 by drummer Mark Holub, Led Bib have gone from strength to strength, touring extensively, gaining critical and popular praise with their genre-defying music. Joining them is leading flautist and composer Eddie Parker. A founding member of 1980s big-band Loose Tubes, Parker is now senior lecturer in jazz at Middlesex University.
And Radio 3's weekly contemporary jazz programme presents a very special event. Now firmly an annual tradition, on Friday 13th November we celebrate the start of the Radio 3 2009 London Jazz Festival with a specially extended show broadcast from Ronnie Scott's in Soho, London, from 10.30pm - 1.00am, presented - as ever - by Jez Nelson.
The show will feature lots of great live music from artists performing during the festival, including vibraphone great Bobby Hutcherson, US vocalist Kurt Elling, award-winning young UK band Empirical, experimental Sardinian guitarist Paolo Angeli and New York improv duo Ted Daniel and Michael Marcus.
If you'd like to come along and be in the audience please go to http://www.bbc.co.uk/tickets/
Led Bib in session with Eddie Parker Playlist:
Yes Again (excerpt)
Artist: Mark Holub (drums), Liran Donin (bass), Toby McLaren (keyboard), Pete Grogan (alto saxophone), Chris Williams (alto saxophone)
Composer: Mark Holub
Album Title: Sensible Shoes
Label: Cuneiform
Released: 2009
Geoff Dyer profiles wild whoops and yelps from jazz instruments - and their players - over the years. Featuring:
Artist: Ornette Coleman (alto saxophone), Billy Higgins (drums), Don Cherry (cornet), Charlie Haden (bass).
Track Title: Lonely Woman
Composer: Ornette Coleman
Album Title: The Shape Of Jazz To Come
Label: Atlantic
Released: 1959
Recorded: May 22, 1959
Artist: Keith Jarrett (piano), Gary Peacock (bass) and Jack DeJohnette (drums)
Track Title: Lifeline
Composer: Keith Jarrett
Album Title: Changeless
Label: ECM
Released: 1987
Recorded: October 1987
Artist: Charles Mingus (piano), Doug Watkins (bass), Dannie Richmond (drums) Rahsaan Roland Kirk (saxophone), Booker Ervin (tenor saxophone), Jimmy Knepper (trombone)
Track Title: Hog Callin' Blues
Composer: Charles Mingus
Album Title: Oh Yeah
Label: Atlantic
Released: 1962
Recorded: November 6, 1961
Artist: Charles Mingus (bass), Ted Curson (trumpet), Eric Dolphy (alto saxophone), Booker Ervin (tenor saxophone), Dannie Richmond (drums)
Track Title: Prayer for Passive Resistance
Composer: Charles Mingus
Album Title: Mingus At Antibes Live
Label: Atlantic/Wea
Released: 1960
Recorded: July 13, 1960
Artist: Julius Hemphill (alto saxophone), Hamiet Bluiett (baritone sax), Baikida EJ Carroll (trumpet) Abdul Wadud (cello), Phillip Wilson (drums)
Track Title: The Hard Blues
Composer: Julius Hemphill
Album title: Coon Bid'ness
Label: Arista-Freedom Records
Released: 1975
Recorded: 1972
Artist: Pharoah Sanders (tenor saxophone), William Henderson (piano), John Heard (bass), Idris Muhammed (drums)
Track Title: Ole
Composer: John Coltrane
Album title: Heart is a Melody
Label: Evidence
Released: 1993
Recorded: November 24, 1971
John Fordham chooses tracks from recent CD releases:
Artist: Wayne Krantz (guitar), Tim Lefebvre (bass), Keith Carlock (drums)
Track Title: War Torn Johnny
Composer: Wayne Krantz
Album Title: Krantz, Carlock, Lefebvre
Label: Abstract Logix
Released: 18th August 2009
Artist: Tord Gustavsen (piano), Tore Brunborg (saxophone), Mats Eilertsen (bass), Jarle Vespestad (drums), Kristin Asbjornsen (vocals)
Track Title: The Swirl-Wrapped in a Yielding Air
Composer: Tord Gustavsen
Album Title: Restored, Returned
Label: ECM
Released: 12th October 2009
The Tord Gustavsen Ensemble perform at the 2009 London Jazz Festival on Saturday 21st November.
For details of Radio 3's coverage of the 2009 London Jazz Festival go to:
http://www.bbc.co.uk/radio3/jazz/londonjazzfestival/2009/
Led Bib and Eddie Parker in session, recorded at Phoenix Sound by Dave Moore on 9th October 2009
Led Bib:
Mark Holub (drums)
Liran Donin (bass)
Toby McLaren (keyboard)
Pete Grogan (alto saxophone)
Chris Williams (alto saxophone)
Eddie Parker (flute)
Set 1:
Call Centre Labyrinth (Mark Holub)
Hoot And Toot (Eddie Parker)
Award-winning Sandwich (Group improvisation)
John Fordham interviews Mark Holub and Eddie Parker
Set 2:
Horses for Courses (Mark Holub)
Shapes and Sizes (Chris Williams)
Iced Finger (Group improvisation)
Walnuts (Mark Holub)
Recommended further listening:
Artist: Led Bib
Composer: Mark Holub
Album title: Sensible Shoes
Label: Cuneiform Records
Released: 4th May 2009
Recommended further listening:
Led Bib's album Sensible Shoes is out now on Cuneiform
Eddie Parke
Last on