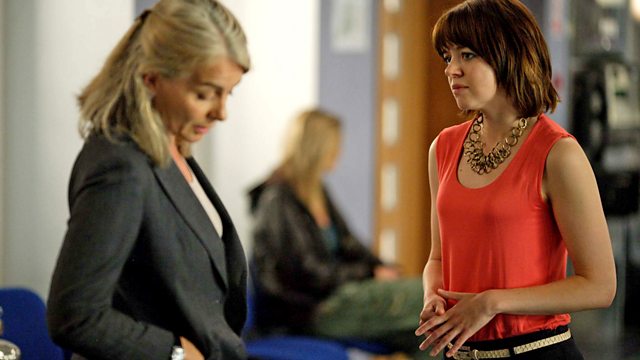 Love is all around as one relationship gets decidedly rocky and another steps up a gear.
It's Ruth's birthday and Jay presents her with a necklace for their date at the Surgeon's Dinner that evening. But Ruth's happiness is short lived when senior medic Sarah Evans warns her that Jay is bad news and that she'll think twice about recommending her for the surgical training post if she continues to see him. Torn and feeling unwell, Ruth cancels Jay as her date for the dinner but he turns up at her flat later that night and finds her out. Confronted by Jay at the dinner, Ruth flees in embarrassment, but collapses, haemorrhaging, as she leaves.
Adam has his hands full with the F2s, whom he won't let treat patients unsupervised. However, when Jessica and the F2s get trapped in resus by a distraught relative, Adam is forced to watch from the sidelines as they save a patient's life. Realising he has to trust them more, Adam admits they did some good work. He thanks Jessica for her support and proposes they set a date for their wedding - New Year's Eve.
Last on
Credits
| Role | Contributor |
| --- | --- |
| Ruth Winters | Georgia Taylor |
| Jay Faldren | Ben Turner |
| Jessica Harrison | Gillian Kearney |
| Adam Trueman | Tristan Gemmill |
| Charlie Fairhead | Derek Thompson |
| Jordan, Nick | Michael French |
| Zoe Hanna | Sunetra Sarker |
| Lenny Lyons | Steven Miller |
| Yuki Reid | Will Sharpe |
| May Phelps | Laura Aikman |
| Jeff Collier | Matt Bardock |
| Kathleen 'Dixie' Dixon | Jane Hazlegrove |
| Polly Emmerson | Sophia Di Martino |
| Tess Bateman | Suzanne Packer |
| Big Mac | Charles Dale |
| Noel Garcia | Tony Marshall |
| Joel | Max Deacon |
| Alistair | Joseph McFadden |
| Gareth | Derek Barr |
| Eileen Naysmith | Neve McIntosh |
| Marcus Tiverton | Daniel Ryan |
| Guy Trainor | Ariyon Bakare |
| Director | Dermot Boyd |
| Writer | Rachel Flowerday |
| Edgar Simmonds | Linal Haft |
| Jackie | Jessica-Jane Clement |