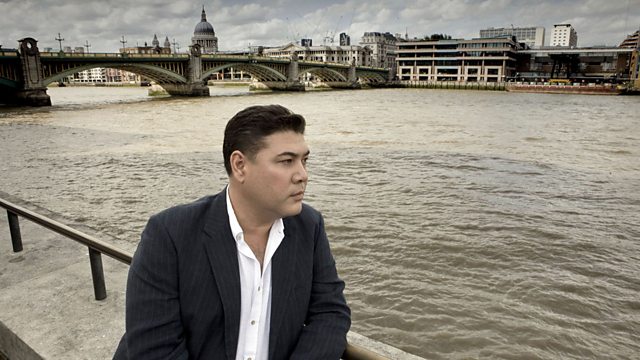 The Marchioness: A Survivor's Story
The man who organised the Marchioness boat party in 1989 has always felt responsible for the death of 51 people after the boat was sunk by the dredger Bowbelle. Twenty years on, he has decided to reconnect with other survivors of the disaster, to conquer his feelings of guilt.
Jonathan Phang is a television presenter and renowned fashion agent who has represented top models including Naomi Campbell, Jodie Kidd and Jerry Hall. Throughout his successful career he has lived with a terrible burden - he organised the party on the Marchioness, a Thames passenger boat which was hit and sunk in 1989 by the Bowbelle, a massive sand dredger. The collision was likened to a bicycle being run over by a lorry. Of the 130 people in board, 51 died, the worst loss of life on the river for more than a century.
Aged 23, Jonathan planned the birthday party for best friend and business partner Antonio Vasconcellos. Antonio died, as did many of Jonathan's closest friends and all his employees. In the months following, he struggled to put his personal and professional life back on track, and still suffers nightmares after his experience of almost drowning. As the 20th anniversary approaches, Jonathan has decided to embark on a journey to reconnect with other survivors, some of whom he hasn't seen since the time of the event. In a series of moving and revelatory encounters, Jonathan tries to find out if others blame him, and whether it is possible to achieve closure on his burden of guilt.
Jonathan is shocked to look back on his medical reports from after the accident, which demonstrate the huge impact on his mental state. At the time he avoided therapy, perhaps unwisely, so he now meets a leading expert in post traumatic stress disorder who treated many of the survivors.
Credits
| Role | Contributor |
| --- | --- |
| Participant | Jonathan Phang |
| Director | Leo Burley |
| Producer | Leo Burley |
| Executive Producer | Richard McKerrow |
| Executive Producer | Harry Lansdown |