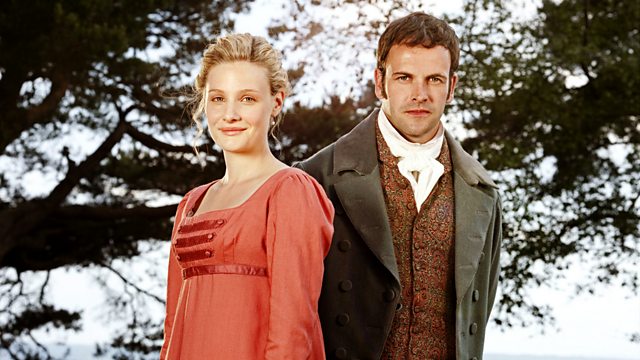 Adaptation of the Jane Austen classic by BAFTA award-winning writer Sandy Welch.
Nothing delights Emma more than meddling in the love lives of others. But when she takes protégé Harriet Smith under her wing, her plans can only end in disaster.
A sumptuous, playful and witty new adaptation of Jane Austen's comic masterpiece from the pen of BAFTA award-winning writer Sandy Welch.
Rich, independent and kind-spirited, Emma Woodhouse has no need to marry, but nothing delights her more than matchmaking those around her. Once she has married off her close companions, she alights upon the pretty Harriet Smith to fashion into her new playmate and ally.
She persuades Harriet that she is too good for her suitor, the farmer Robert Martin, and encourages her to set her sights higher. But close family friend Mr Knightley warns Emma that her meddling will cause great pain - to both Robert and Harriet. Emma refuses to listen, and Mr Knightley is furious at Emma's stubbornness.
Last on
More episodes
Previous
You are at the first episode
Credits
| Role | Contributor |
| --- | --- |
| Emma | Romola Garai |
| Mr Knightley | Jonny Lee Miller |
| Mr Woodhouse | Michael Gambon |
| Miss Bates | Tamsin Greig |
| Anne Taylor/Weston | Jodhi May |
| Mr Elton | Blake Ritson |
| Harriet Smith | Louise Dylan |
| Mr Weston | Robert Bathurst |
| Mrs Goddard | Veronica Roberts |
| Robert Martin | Jefferson Hall |
| Mrs Bates | Valerie Lilley |
| John Knightley | Dan Fredenburgh |
| Isabella Knightley | Poppy Miller |
| Mrs Woodhouse | Annabel Mullion |
| Mrs Churchill | Susie Trayling |
| Miss Martin #1 | Eileen O'Higgins |
| Miss Martin #2 | Sarah Ovens |
| Emma (7 years old) | Sophie Alibert |
| Young Emma (3 years old) | Lyla Barrett-Rye |
| Young Frank Churchill | Teddy Bunn |
| Young Jane Fairfax | Sarah Gower |
| Young Jane Fairfax | Claire Gower |
| Director | Jim O'Hanlon |
| Director | Jim O'Hanlon |
| Producer | George Ormond |
| Producer | George Ormond |
| Writer | Sandy Welch |
| Writer | Sandy Welch |
| Executive Producer | Phillippa Giles |
| Executive Producer | Phillippa Giles |
| Assistant Director | Martin Curry |
| Assistant Director | Martin Curry |
| Second Assistant Director | Tom Rye |
| Second Assistant Director | Tom Rye |
| Location Manager | Rupert Bray |
| Location Manager | Rupert Bray |
| Script Supervisor | Karen Jones |
| Script Supervisor | Karen Jones |
| Production Secretary | Kevin Proctor |
| Production Secretary | Kevin Proctor |
| Runner | Lotty Underwood |
| Runner | Lotty Underwood |
| Runner | Esther Dennis |
| Runner | Esther Dennis |
| Runner | Amanda Dudley |
| Runner | Amanda Dudley |
| Runner | Annabel Norbury |
| Runner | Annabel Norbury |
| Camera Operator | Simon Baker |
| Camera Operator | Simon Baker |
| Camera Operator | Luke Redgrave |
| Camera Operator | Luke Redgrave |
| Focus Puller | Mary Kyte |
| Focus Puller | Mary Kyte |
| Focus Puller | Kim Seber |
| Focus Puller | Kim Seber |
| Clapper Loader | Simon Surtes |
| Clapper Loader | Simon Surtes |
| Clapper Loader | Tom McFarling |
| Clapper Loader | Tom McFarling |
| Grip | David McAnulty |
| Grip | David McAnulty |
| Sound Engineer | James Harris |
| Sound Engineer | James Harris |
| Stunts | Tom Lucy |
| Stunts | Tom Lucy |
| Stunts | Dean Forster |
| Stunts | Dean Forster |
| Art Director | Pilar Foy |
| Art Director | Pilar Foy |
| Graphic Designer | Georgina Millett |
| Graphic Designer | Georgina Millett |
| Property Master | Colin Bayliss |
| Property Master | Colin Bayliss |
| Costume Supervisor | Amanda Keable |
| Costume Supervisor | Amanda Keable |
| Makeup Supervisor | Karen Edwards |
| Makeup Supervisor | Karen Edwards |
| Sound Effects Person | Wayne Brooks |
| Sound Effects Person | Wayne Brooks |
| Dubber | David Old |
| Dubber | David Old |
| Sound Recordist | Fraser Barber |
| Sound Recordist | Fraser Barber |
| Costume designer | Rosalind Ebbutt |
| Costume designer | Rosalind Ebbutt |
| Casting | Gemma Hancock |
| Casting | Gemma Hancock |
| Casting | Sam Stevenson |
| Casting | Sam Stevenson |
| Director of photography | Adam Suschitzky |
| Director of photography | Adam Suschitzky |
| Production Designer | Stevie Herbert |
| Production Designer | Stevie Herbert |
Buy online
Buy online
Available on: DVD or Video download
From suppliers including: BBC Store, iTunes