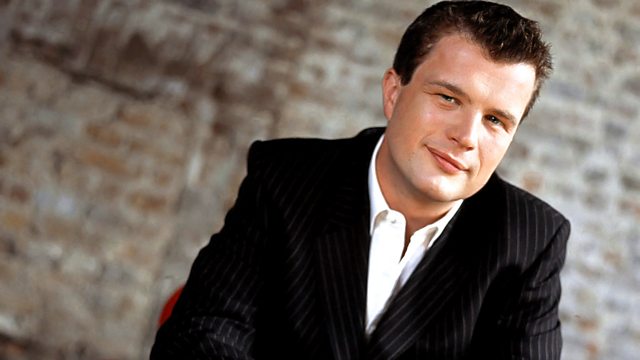 21/10/2009 John Fulljames, John Graham Hall, David McVicar
Petroc Trelawny presents a selection of music and guests from the arts world.
Featuring interviews with director John Fulljames and tenor John Graham Hall. They talk about their roles in Opera North's new production of Janacek's The Adventures of Mr Broucek.
And Petroc is joined in the studio by director David McVicar, who discuss English National Opera's production of Britten's The Turn of the Screw.
17:03
CANTELOUBE
L'Antoueno [Anthony]
(Songs of the Auvergne: Set 2)
Kiri te Kanawa (soprano)
English Chamber Orchestra
Jeffrey Tate (conductor)
Decca 444 995 2
CD 1 TR 5
3.19
17:07
DEBUSSY
Suite Bergamasque (Clair de lune)
Aldo Ciccolini (piano)
EMI CDC 7 54451 2
TR 3
5.11
17:13
JANACEK
The Adventures of Mr Broucek (Opening prelude)
Czech Philharmonic Orchestra
Frantisek Jilek (conductor)
Supra 22 2153-2 612
CD 1 TR 1
3.30
17:23
JANACEK
The Adventures of Mr Broucek (Extract from Act I)
Soloists
Czech Philharmonic Chorus & Orchestra
Frantisek Jilek (conductor)
Supra 22 2153-2 612
CD 1 TR 8-10
6.15
17:32
JANACEK
The Adventures of Mr Broucek (Climax of Act III)
Soloists
Czech Philharmonic Chorus & Orchestra
Frantisek Jilek (conductor)
Supra 22 2153-2 612
CD 2 TR 7
5.12
17:42
FASCH
Concerto in D for trumpet, two oboes, bassoon & strings
Giuliano Sommerhalder (trumpet)
Basel Chamber Orchestra
Director Julia Schroder
DHM 88697446412
TR 7-9
5.48
17:48
JOHANN STRAUSS II
Wine, Woman & Song
Alban Berg Quartet
EMI 7548812
TR 8
10.04
18:03
SCHUBERT
Impromptu in G flat, D899 No 4
Radu Lupu (piano)
Decca 460 975 2
TR 3
6.30
18:10
BRITTEN
The Turn of the Screw (Prologue)
Philip Langridge (tenor)
David Owen Norris (piano)
Collins 70302
CD 1 TR 1
DUR: 3.17
18:21
BRITTEN
The Turn of the Screw (Scene Four: The Tower)
Felicity Lott (The Governess)
Aldeburgh Festival Ensemble
Stuart Bedford (conductor)
Collins 70302
CD 1 TR 5
5.36
18:34
BRITTEN
The Turn of the Screw (Scene Eight: Miles)
Felicity Lott (The Governess)
Phyllis Cannan (Mrs Grose)
Sam Pay (Miles)
Philip Langridge (Quint)
Aldeburgh Festival Ensemble
Collins 70302
CD 2 TR 8
12.00
18:47
DVORAK
Legends, Op 59 (No VI)
Czech Philharmonic Orchestra
Sir Charles Mackerras (Conductor)
SU 3533-2 031
TR 8
5.10
18:53
GERSHWIN
Gershwin Melody (Arr.Goodman)
Benny Goodman (clarinet)
Nimbus NI 2731/3
CD 2 TR 13
5.46
Last on