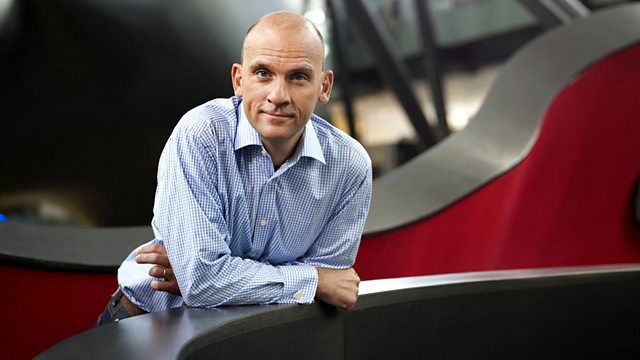 Darius Jones Trio
Jez Nelson presents a gig performed at the 2009 Vision Festival in New York by US saxophonist Darius Jones with his trio. The group play music from Jones' debut album Man'ish Boy, which Jones describes as 'a tone poem about me and my life growing up in the South'. It features Bob Moses on drums and Cooper-Moore on piano and diddly-bo - a wooden board with a single wire stretched between two nails which is played with a slide.
Relatively new to the New York scene, Jones has been making waves in the city since he moved from his hometown in Virginia in 2005, and has been praised by pianist Matthew Shipp for his improvisational skills.
And Radio 3's weekly contemporary jazz programme presents a very special event. Now firmly an annual tradition, on Friday 13th November we celebrate the start of the Radio 3 2009 London Jazz Festival with a specially extended show broadcast from Ronnie Scott's in Soho, London, from 10.30pm - 1.00am, presented - as ever - by Jez Nelson.
The show will feature lots of great live music from artists performing during the festival, including vibraphone great Bobby Hutcherson, US vocalist Kurt Elling, award-winning young UK band Empirical, experimental Sardinian guitarist Paolo Angeli and New York improv duo Ted Daniel and Michael Marcus.
If you'd like to come along and be in the audience please go to http://www.bbc.co.uk/tickets/
Playlist:
Excerpt of Meekness by the Darius Jones Trio at the Vision Festival in New York on June 13th 2009.
CD tracks:
Artist: Vijay Iyer Trio
Track Title: Smoke Stack
Composer: Andrew Hill
Album Title: Historicity
Label: ACT Music
Released: 7 Sept 2009
Vijay Iyer Tour Date in 2009:
15th November at the Purcell Room, London Jazz Festival. Solo concert with support from Polish pianist Mozder with Swedish bassist Lars Danielsson.
Artist: Ben Allison Quintet
Track Title: Peace Pipe
Composer: Ben Allison
Album Title: Think Free
Label: Palmetto Records
Released: 13 Oct 2009
Artist: Empirical
Track Title: Hat and Beard
Composer: Eric Dolphy
Album Title: Out and In
Label: Naim
Released: 28 Sept 2009
Artist: Han Bennink Trio
Track Title: Parken
Composer: Sieben
Album Title: Parken
Label: ILK Music
Released: 28 Sept 2009
Artist: Kit Downes Trio
Track Title: Golden
Composer: Kit Downes
Album title: Golden
Label: Basho Records
Released: 2 Nov 2009
Artist: Harris Eisenstadt
Track Title: Katekeeper
Composer: Harris Eisenstadt
Album title: Canada Day
Label: Clean-Feed Records
Released: 6 Oct 2009
Artist: Jan Garbarek
Track Title: Paper Nut
Composer: Lakshminarayana Shankar
Album title: Dresden
Label: ECM
Released: 21 Sept 2009
Interview with Darius Jones
Darius Jones Trio recorded at the Vision Festival in New York on June 13th 2009.
Line up:
Darius Jones (saxophone)
Cooper-Moore (piano and diddley-bo)
Rakalam Bob Moses (drums)
Set list:
Forgive Me (Darius Jones) etc
Meekness (Darius Jones)
Cry Out (Darius Jones)
Chasing the Ghost (Darius Jones)
Recommended further listening:
Artist: Darius Jones Trio
Composer: Darius Jones
Album title: Man'ish Boy (A Raw and Beautiful Thing)
Label: AUM Fidelity
Released: 13 Oct 2009.
Last on