Add music you love and enjoy it with
Timings (where shown) are from the start of the programme in hours and minutes
00:00

A Fokas

Oi Olia (trad Lithuanian)

Proteviu Sauksmas and call of the ancestors, LITuanus JACD065

00:01

Rytis Mažulis

The dazzled eye lost its speech

Performers: Estonian Philharmonic Chamber Choir, Paul Hillier

Estonian Voices 3, HMU 907391

00:06

A Fokas (kankle)

Seserutas pasejo/sister sowed rue

Performers: Sutaras

Proteviu Sauksmas and call of the ancestors, LITuanus JACD065

00:07

Three flocks of geese

A Adomaityte R Petrulyte L Aleknvicus A Fokas

Proteviu Sauksmas and call of the ancestors, LITuanus JACD065

00:08

Robert Moran

Lithuanian Spin from Three Dances

Piano Circus, Argo 440 294

00:16

Retrospective, the very best of Est, ACT9021 2

00:25

00:30

Montserrat Figueras/Hesperion XX1

Nani nani

diaspora sefardi, Alia vox 9809

Tortoise and Colin Newman Session

00:47

Tortoise and Colin Newman

Track 1

00:51

Tortoise and Colin Newman

Track 2

00:56

Tortoise and Colin Newman

Track 3

01:00

Tortoise and Colin Newman

Track 4

01:06

Ngadu

Masumbi music from Tanzania

Ocora C560165

01:13

01:20

Performers: Alin Ibragimova (violin)

CDA 67691/2

Tortoise and Colin Newman Session

01:35

Tortoise and Colin Newman

Track 5 (bonus track)

01:39
Session Photos

See Session Photos

Tortoise & Colin Newman Session

An exclusive collaborative session between Chicago's post rock pioneers Tortoise and front man of legendary post punk band Wire, Colin Newman.

Newman and Tortoise met together at the BBC's Maida Vale studios, for an unplanned and unprepared day of music making.
Late Junction on BBC Playlister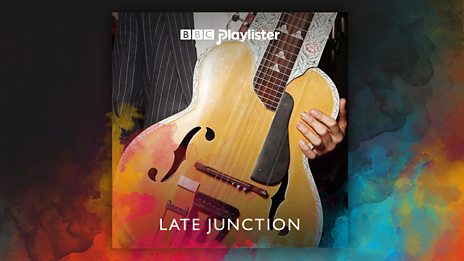 Selections from Radio 3's eclectic showcase of music from around the world.
Podcast
Late Junction's unique studio sessions bring together musicians who have never recorded together…