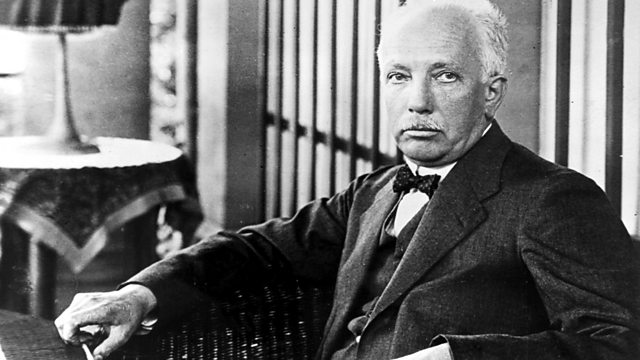 Donald Macleod explores the life and work of Richard Strauss.
He focuses on the composer at the time of the First World War, when his music began to show an even more profound sense of irony. His incidental music for Le bourgeois gentilhomme is a typical example, presenting the style and mood of 18th century music in a 20th-century manner.
Ouverture; Schlaft sie? (Ariadne)
Najade ...... Christiane Hossfeld (soprano)
Dryade ...... Angela Liebold (mezzo-soprano)
Echo ...... Eva Kirchner (soprano)
Ariadne ...... Deborah Voigt (soprano)
Staatskapelle Dresden
Giuseppe Sinopoli (conductor)
DG 471 323-2 CD1 Trs 9-10
Der Pokal; Einerlei; Waldesfahrt; Schlechtes Wetter (Kleine Lieder, Op 69)
Dietrich Fischer-Dieskau (baritone)
Gerald Moore (piano)
EMI 7 63995 2 CD6 Trs 4-7
Le bourgeois gentilhomme, Op 60
Berlin Philharmonic
Simon Rattle (conductor)
0EMI 3 39339 2 Trs 7-15.
Last on