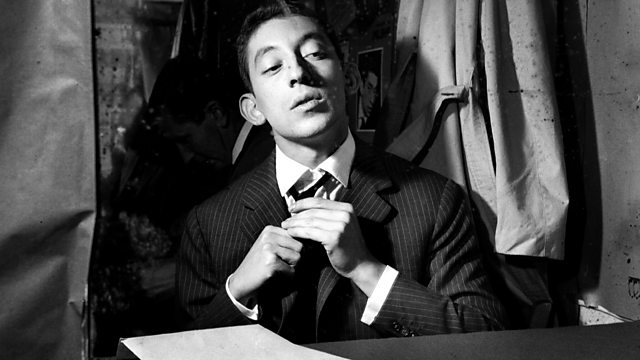 La Chanson de Serge: The Serge Gainsbourg Story
As part of 6 Music's Wise Women season, Alsion Goldfrapp selects a programme about Serge Gainbourg presented by Malcom McLaren, who visited the people and places in Paris central to Serge's story. These include Saint-Germain des Pres, where Gainsbourg first performed in the rive gauche cafes and bars; his former home in the Rue de Verneuil; his grave at Montparnasse cemetery. Contributors include Jane Birkin, Francoise Hardy, Petula Clark, David Holmes and biographer Sylvie Simmons.
There is no equivalent of Serge Gainsbourg in the contemporary British music scene. At his traffic-stopping funeral in 1991, President Mitterrand described him as 'our Baudelaire, our Apollinaire. He elevated the song to the level of art.' Today, his former home in the suburbs of Paris's Left Bank is covered in graffiti and the 'wall of Serge' is a bigger shrine than Jim Morrison's grave in Pere Lachaise cemetery.
This was Gainsbourg's international breakthrough but he'd been an established songwriter for years before this success. He wrote songs for Bardot, Juliette Greco and Francoise Hardy, as well as the winning song for Luxemburg in the Eurovision Song Contest of 1965. One of the most frequent interpreters of Gainsbourg songs was Petula Clark.
Gainsbourg knew no musical barriers, recording over twenty albums of jazz, reggae, pop, disco, psychedelia and rock 'n' roll. But although the French regard Serge as their very own John Lennon or Bob Dylan, his work was not so highly regarded outside his native country.
First broadcast in 2009.