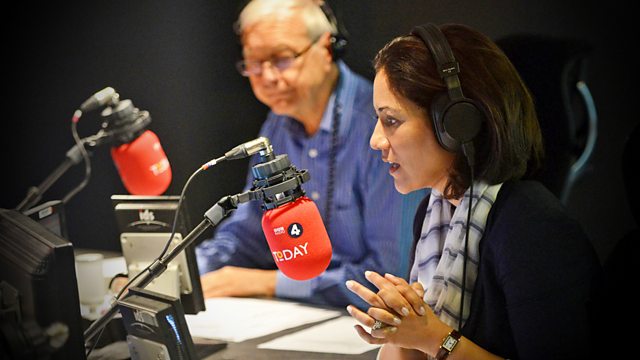 13/10/2009
Presented by John Humphrys and Evan Davis.
There have been four violent attacks in Pakistan during the last week. The most brazen assault was over the weekend on the army's headquarters near Islamabad, where 10 militants shot their way past the front gate, seized 40 hostages and held them overnight. Lt Gen Asad Durani, the retired former head of Pakistan's Inter-Services Intelligence, discusses the wave of attacks.
A new report for the government's Digital Inclusion initiative has found that four million people in the UK are not online, and that ten million have used the internet only a few times. The government's Digital Inclusion champion, Martha Lane Fox, and technology correspondent Rory Cellan-Jones discuss the government's aims to get everyone online.
The Alzheimer's Society is campaigning to encourage more people to donate their brains for medical research. Dr Susanne Sorensen, head of research at The Alzheimer's Society, and vice president of the organisation, David Blunkett, discuss the importance of brain donation for medical advancement.
A leading children's charity has found that, despite extensive reforms of child protection procedures, cases of neglect are increasing. In England in 2008 there were nearly 17,000 children registered on protection plans because their parents were unable to look after them properly. Nicola Stanbridge reports on one neglect case and met the family involved. Headteacher Margaret Lenton and chief executive of Action for Children, Clare Tickell, examine how schools and local authorities are dealing with the increasing number of neglected children.
A new exhibition run by the London Transport Museum explores how public transport helped to create the myths and identity of suburbia and how it has featured in the cultural fabric of London and Britain over the last 100 years. Evan Davis and journalist Miranda Sawyer took a look at the new exhibition, Suburbia.
Thought for the Day with the Right Rev James Jones, Bishop of Liverpool.
The United Nations in Gaza is concerned that thousands of schoolchildren are living in homes and studying in schools in varying states of disrepair as the winter season approaches. Buildings across the Gaza Strip were damaged or destroyed during Israel's three-week long offensive at the beginning of 2009. Middle East correspondent Katya Adler reports from northern Gaza.
Today has been struggling to find MPs willing to discuss the letters they have received about their expenses. Reporter Jack Izzard went to the Huntingdon constituency of the Conservative MP Jonathan Djanogly, who did not break the rules but has volunteered to pay back 25,000 pounds, to see if his constituents have any sympathy for MPs. Labour MP Sir Stuart Bell, a member of the committee that deals with MPs' pay and allowances, examines whether the repayments will go some way to appeasing voters.
The Public Accounts Committee of MPs has been looking at how well the Ministry of Defence has been equipping British forces in Afghanistan and Iraq. It has recommended a change in the workings of the system by which the MoD can quickly get equipment to troops on the front line, the 'urgent operational requirements' system. Professor Michael Clarke, director of the Royal United Services Institute, comments on the committee's findings.
Musician and author Nick Cave has composed a soundtrack tailor-made to complement his new novel, The Death of Bunny Munro. Evan met Mr Cave and his musical collaborator Warren Ellis to examine whether audiobooks are an unexploited medium.
Kane And Abel was Jeffrey Archer's breakthrough novel, selling 30 million copies and being translated into 37 languages. Published 30 years ago, Lord Archer has now 're-crafted' the book. Many literary figures, including Henry James and Samuel Richardson, have gone back and tinkered with their works. Lord Archer and John Sutherland, Professor of Modern English Literature at University College, London, discuss why authors like to reconstruct their works.
US Secretary of State Hilary Clinton is meeting leaders in Russia to gain support for a tougher stand against Iran's nuclear programme. Correspondent Richard Galpin examines whether Russia will make a stand against Iran.
Nick Cave has combined his two arts and put a soundtrack to the audiobook version of his latest novel. We aske other well-known voices to compile their own audiobooks.
Last on
So you think you know the Today programme?