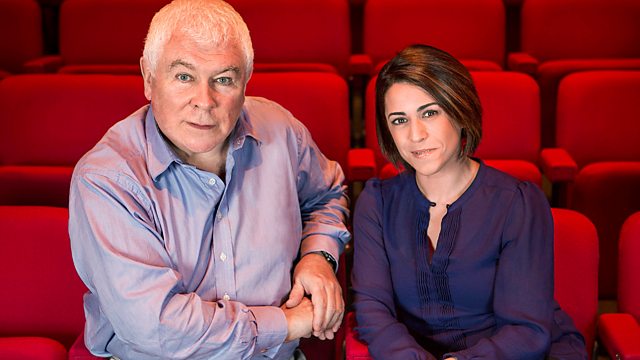 05/10/2009 Simon Keenlydside, Katarina Dalayman and the ROH's Carmen
Sean Rafferty presents a selection of music and guests from the arts world.
With tenor Simon Keenlyside and soprano Katarina Dalayman who join Sean to talk about the culmination of Esa-Pekka Salonen's City of Dreams project, a semi-staged version of Alban Berg's Wozzeck.
Plus mezzo-soprano Elina Garanca and tenor Roberto Alagna discussing the Royal Opera House's new production of Carmen by Bizet.
17:02
HANDEL
Solomon (The Arrival of the Queen of Sheba; Fugue; Lento)
Academy of Ancient Music
Kenneth Sillito (conductor)
CAPRICCIO 10420
Track 21-23
7'36"
17:11
BERG
Wozzeck (Act II Introduction + Scene I: Marie's Room)
Katarina Dalayman (soprano)
Carl Johan Falkman, (Wozzeck)
Orchestra and Chorus of the Royal Opera, Stockholm
Leif Segerstam (conductor)
NAXOS 8.660076-77
CD 2, tracks 1-2
17:24
BRAHMS
Abendammerung, Op.49 No.5
Simon Keenlyside (baritone)
Malcolm Martineau (piano)
SONY 88697566892
Track 16
4'15
17:35
BERG
Wozzeck (Tschin Bum…! Horst Bub? Da kommen sie!)
Katarina Dalayman (Marie)
Marianne Eklof (Margret)
Carl Johan Falkman (Wozzeck)
Orchestra and Chorus of the Royal Opera, Stockholm
Leif Segerstam (conductor)
NAXOS 8.660076-77
CD1, track 3
8'34"
17:45
BEETHOVEN
Piano Sonata in E, op.90
Stephen Kovacevich (piano)
EMI CDC 5 56148 2
Tracks 1-2
12'25"
17:57
CHARPENTIER
Te Deum (fanfare)
Maurice Andre (trumpet)
EMI 7243 5 62993
CD 1, Track 19
1:58
18:03
BIZET
Les Toreadores; Danse Boheme (Carmen Suite)
Orchestra of the Bastille
Myun Whun Chung, conductor
DG 42178 2
TRACKS 1 AND 8
6'01
18:10
BRAHMS
FAE Sonata (Scherzo-Allegro)
Christian Tetzlaff (violin)
Lars Vogt (piano)
EMI CDC5575252
Track 11
5'02
18:16
BIZET
Carmen (La fleur que tu m'avais jetée)
Roberto Alagna (tenor)
London Philharmonic Orchestra
Richard Armstrong (conductor)
EMI CDC5 55540 2
Track 8
3'58"
18:27
ROSSINI
Tancredi (Cavatina: "Di tanti palpiti")
Elina Garanca (mezzo-soprano)
Filarmonica del Teatro Comunale di Bologna
Roberto Abbado (conductor)
DG 477 7460
Track 12
2'52"
18:36
BIZET
Carmen (Act 4 finale: Carmen, il est temps encore)
Maria Callas (Carmen)
Nicolai Gedda (Don Jose)
Georges Pretre (director)
EMI CDS7473138
CD.3, track 13
8'44"
18:46
PURCELL
Abdelazer
The Academy of Ancient Music
Christopher Hogwood (director)
L'OI-LYRE 433 191-2
Tracks 8-10
12'42
Last on