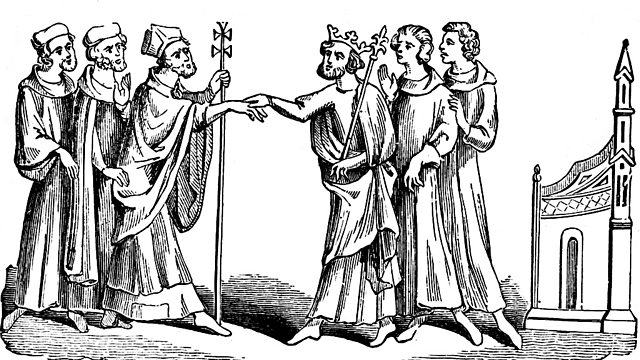 Becket or The Honour of God
Written by Jean Anouilh and translated by Lucienne Hill.
It is 1173 and Henry II, the King of England does penance for the murder of the Archbishop Thomas Becket, once Chancellor and his friend. Plantagenet power has triumphed over the independence of the clergy, but at what personal cost?
Henry II ...... Toby Stephens
Becket ...... David Morrissey
Queen Mother ...... Sara Kestelman
Archbishop ...... Adrian Lukis
London ...... Jonathan Keeble
Oxford ...... Terence Wilton
York/Pope ...... Mark Perry
Saxon Man/Cardinal ...... Jonathan Oliver
Little Monk ...... Steven Kynman
Young Queen ...... Teresa Gallagher
Gwendolen ...... Rachel Isaac
Director: Roy McMillan
Technical direction: Norman Goodman
Music: Arthur Ka Wai Jenkins
Producer: Nicolas Soames.
Last on