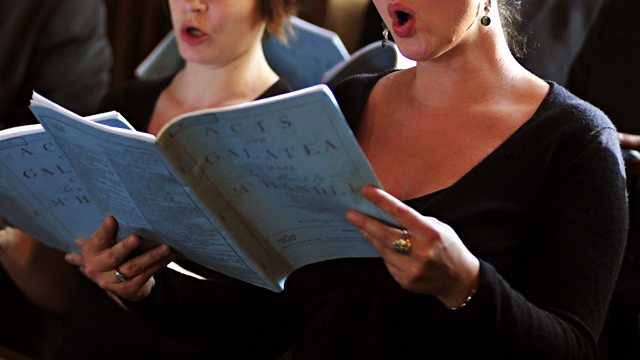 Matthew Whittall/Haydn Grosse Orgelmesse
Finland is famed for its distinctive choral sound, yet one of its brightest composing stars is a Canadian who moved there only in 2001. Aled Jones talks to Matthew Whittall about this unique choral culture swap.
Plus more from Eisenstadt, Joseph Haydn's professional home, and the second in a series of complete mass performances, his Missa in Honorem BVM (Grosse Orgelsolomesse).
Tracklist:
Jarmo Parviainen
Ilta (Evening)
Helsinki University Chorus (HOL), conducted by Esko Klalio
ALBA NCD39, track 1
Cristobal de Morales
Regina Caeli
Nordic Voices
CHANDOS CHSA5050, tracks 3-4
Matthew Whittall
Sakura (from Shiki)
HOL, conducted by Esko Kallio
ALBA NCD39, track 10
Matthew Whittall
Prelude - summer; Amanogawa (from Shiki)
HOL, conducted by Esko Kallio
ALBA NCD39, tracks 11-12
Kyrillus Kreek
Happy is the Man
Estonian Philharmonic Chamber Choir, conducted by Paul Hillier
HARMONIA MUNDI HMU907311, track 3
Matthew Whittall
Listen to the Rain
HOL, conducted by Esko Kallio
ALBA NCD39, track 2
Hubert Parry
Jerusalem
Waynflete Singers, Bournemouth Symphony Orchestra and the Choir of Winchester Cathedral, conducted by David Hill
ARGO 430 836-2, track 12
Joseph Haydn
Missa in Honorem BVM (Grosse Orgelmesse)
Soloists: Dorothea Roschmann, Bernard Fink, Helmut Wildhaber and Klaus Mertens, with the Hugo Distler Choir and Vienna Academy conducted by Martin Haselböck. The organ soloist is Elisabeth Ullmann.
NOVALIS 150095-2, track 1-6
Last on