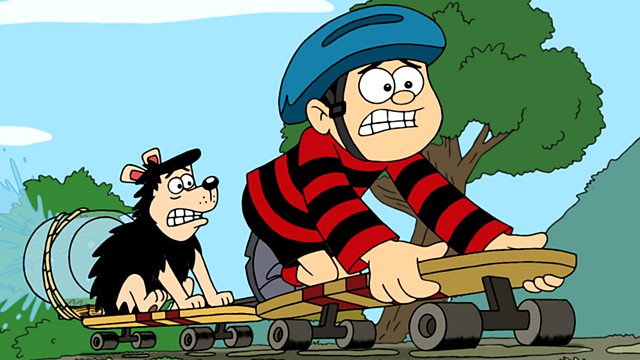 Animation. Dennis lives in Beanotown with Mum, Dad, little sister Bea and his pet dog Gnasher. Gnasher is more than a dog to Dennis; he is a kindred spirit. Whatever Dennis does, Gnasher does with him.
Together with their friends Curly and Pie Face, Dennis and Gnasher believe that the world truly is their oyster and that kids should make the rules. Not everyone agrees, including Mum and Dad. But Dennis and Gnasher are not going to let that stand in the way of their pursuit of fun!
During an incident involving a Segway-riding Walter and a gentleman in the park, Dennis has broken his skateboard again. Dad agrees to buy Dennis the best skateboard there is as a replacement if he is able to win a prize at the upcoming school award ceremony. At this late stage, the only prize that Dennis has a chance of winning is the best behaviour prize. Dennis does everything he can to impress Mrs Creecher, and it even looks like he is able to surpass Walter at sucking up.
Just as it is neck-and-neck between him and Walter, Walter is ruled out of the competition for knocking over the guest speaker, Mr Guff, in the park. Dennis is going to win the best behaviour prize and get a brand new skateboard - until Gnasher escapes from the house and follows Dennis to school, where there is a reception full of food and of course, there is a plate filled with sausages. Chaos ensues.
There is no chance of winning the best behaviour prize now, but all is not lost because Mr Guff finds the day's events so funny that he awards Dennis a special prize for outstanding individual achievement. Dennis gets his prize and earns his new skateboard.
Last on