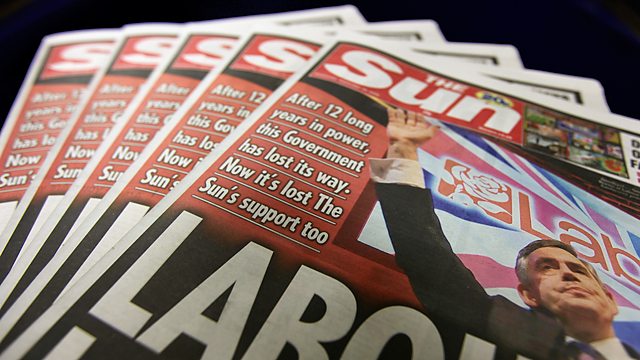 30/09/2009
Listen in pop-out player
Trevor Kavanagh, Associate Editor of The Sun, discusses their decision to back the Conservatives; why have they decided to do it now and what will the impact be?
The impartial reporting of news has been the bedrock of British broadcasting for decades but that could be under threat. Recently Jeremy Hunt, the shadow culture secretary, suggested he may want to scrap the rules on political impartiality if the Tories get into power. BBC Trustee and director of journalism at Cardiff University Richard Tait and David Graham, chief executive of the media consultancy Attentional and founder of Diverse Productions, join Steve to discuss whether impartial news reporting is still a viable and valuable model.
The BBC's announcement that it is actively seeking to recruit a female newsreader over the age of 50 is yet another twist in its ageism saga. For many years, female newsreaders have appeared to have a much shorter shelf-life than their male counterparts. So is this a sign attitudes are changing for good or simply a stunt with little consolation for those women overlooked in the past? Sue Ayton, agent to the newsreaders, and the controller of the BBC's News Channel, Kevin Bakhurst, discuss.
It's the season of the big conference speech; comebacks, rallying the faithful and enticing policy announcements are all the rage. But what makes a great speech for those on the inside - the speech writers and those that report them? We speak to former Number 10 spin doctor Lance Price and assistant political editor of the Sunday Express, Julia Hartley-Brewer.
Last on