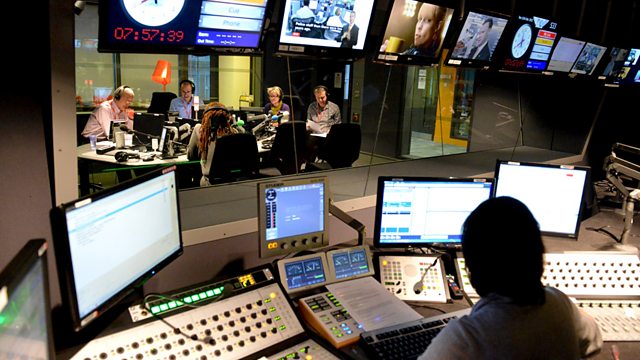 01/10/2009
Presented by Sarah Montague and John Humphrys.
Britain's biggest defence contractor, BAE Systems, may be facing prosecution in what could become the biggest corruption trial this country has ever seen. Business editor Robert Peston analyses the importance of the decision.
Union leaders are holding talks with Canadian company Magna, the new owners of car maker Vauxhall, over rumours of job losses. Joint leader of union Unite, Tony Woodley, says that he fears a 'political stitch-up', with UK jobs being cut to protect the company's German workers.
Some 10,000 US marines are now in Afghanistan's Helmand province as part of a US military surge. They have pushed further into southern Afghanistan than British forces were able to, but are facing almost daily gun battles with the Taliban. Ian Pannell reports from one of the marines' most remote combat outposts, where the battle is at its fiercest. Contains language which may offend.
The Serious Fraud Office (SFO) is announcing that it intends to prosecute Britain's biggest defence contractor, BAE Systems, for corruption. It is expected to demand the confiscation of a sum of between 500 million and one billion pounds. Andrew Hosken reports on the breakdown of talks after the company refused to plead guilty to bribery charges and pay a significant sum in confiscation.
A new earthquake has hit the Indonesian island of Sumatra, as officials say 200 people may have died in earlier tremors. Bob McKerrow, head of the delegation in Indonesia for the International Federation of Red Cross, based in Jakarta, describes the humanitarian crisis on the island.
Thought for the Day with Rev Angela Tilby.
How will Britain respond to the US reconsideration of its military strategy in Afghanistan? North America editor Mark Mardell analyses the current discussion taking place in the White House and defence secretary Bob Ainsworth discusses whether or not the UK will follow if the US decides to shift the focus of its campaign.
The Serious Fraud Office is to seek permission from the attorney general to prosecute Britain's biggest defence contractor, BAE, for corruption. Andrew Hosken reports on accusations, which BAE deny, that hundreds of millions of pounds were paid in bribes to secure contracts. Liberal Democrat MP Norman Lamb reacts to the decision to seek a prosecution.
The Irish will vote tomorrow for the second time on the Lisbon Treaty: a treaty designed to streamline decision-making in the EU and set up an EU president and foreign affairs spokesman. Europe correspondent Jonny Dymond analyses the likely outcome of the referendum.
A 7.6 magnitude earthquake has hit Sumatra, a day after another powerful quake devastated the Indonesian island. At least 200 people are thought to have died. Most of casualties were in the coastal city of Padang, where it is feared that hundreds more could be trapped beneath rubble. Martin Hatfull, UK ambassador to Indonesia, describes the extent of the destruction.
There are more Orange Order parades in Glasgow than there are in Belfast, at a large cost to the police. Scotland correspondent Colin Blane and Ian Wilson of the Orange Order discuss whether the number of parades could be cut.
The case of a woman who doctors allowed to die after she drank poison is thought to be the first time a living will has been used by someone trying to commit suicide. Kerrie Wooltorton, who died in 2007, handed doctors a written declaration of her wishes after telling them she only wanted pain relief and not for her life to be saved. Dr Sheila McLean, Professor of Medical Law and Ethics in Medicine at Glasgow University, discusses the case.
In the run-up to the winner of the Man Booker Prize for Fiction being announced, the Today programme is speaking to all six shortlisted authors. Arts correspondent Rebecca Jones talks to Sarah Waters about her novel, The Little Stranger.
Senior government officials from Iran are meeting with the five permanent members of the UN Security Council and Germany to talk about Iran's nuclear programme. It follows the disclosure of the existence of a secret uranium enrichment plant. Jeremy Bowen explains what steps the US and Russia could take against the regime.
The BBC has learnt that Rhodri Morgan will announce his resignation or retirement as First Minister in the Welsh Assembly. Mr Morgan, who turned 70 this week, has led Labour in the Assembly for most of its first decade. Wyre Davies reports on the search for a successor.
Leading nutritionists have signed a petition calling for a change in labelling rules to stop margarines and spreads from saying that they are good for you because they contain Omega 3. Prof Jack Winkler of London Metropolitan University, who co-ordinated the petition, explains his concerns.
Last on