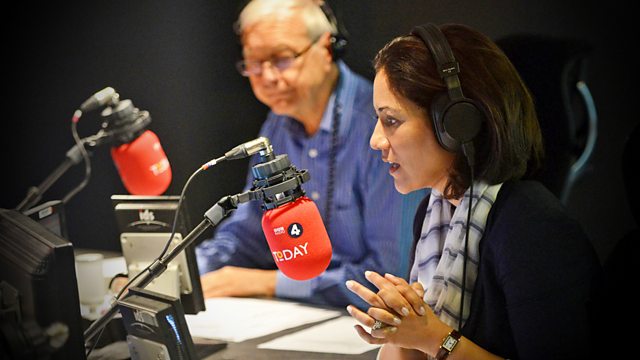 29/09/2009
Presented by James Naughtie and Evan Davis.
President Barack Obama is to hold the first of five meetings with his security advisers to look at whether or not the strategy for Afghanistan is on the right track. North America editor Mark Mardell reports on why the top US and NATO commander in Afghanistan has warned of likely failure without more troops.
Children whose mothers work are less likely to lead healthy lives than those with 'stay at home' mums, a study says. Prof Catherine Law, who led the research, discusses the study of more than 12,500 five-year-olds.
Life at party conference comes in all shapes and sizes. During the conferences there are debates and meetings on smoking culture, children, shooting, angling, Azerbaijan, Christian socialism, wildlife and the history of the suffragettes among many others. Today presenter Jim Naughtie catches the atmosphere of the real conference enthusiast.
Fiona Pilkington, 38, committed suicide and unlawfully killed her 18 year-old daughter, Francecca Hardwick, after repeatedly asking for help following years of abuse at the hands of neighbours. Correspondent Mike Thomson reports from Leicestershire on whether too little is being done to control unruly youths that are making lives a misery.
One opinion poll has put Labour in third place behind the Liberal Democrats. Prime Minister Gordon Brown is under pressure to make the speech of his life to rally support within the party. Former Labour leader Neil Kinnock, who had his own painful tussles with the electorate, discusses how to change the opinion of those who do not warm to a leader.
Thought for the Day with Rev Joel Edwards, international director of Micah Challenge.
A 14-year-old girl has died after being given a cervical cancer jab as part of a national immunisation programme, but the exact cause of death is unknown. David Elliman, a consultant in community paediatrics at Great Ormond Street Hospital, examines whether the routine programme of vaccinating 12- and 13-year-old girls should be continued.
The IPCC is to probe why more was not done to help a mother who committed suicide and unlawfully killed her disabled daughter after being subjected to abuse. Home secretary Alan Johnson discusses how the problem of social disorder can be addressed.
Labour is in 'the fight of [their] lives' but the party can win the next election, business secretary Lord Mandelson said shortly before a standing ovation at the Labour party conference. Political editor Nick Robinson examines the mood in Brighton ahead of an important day for Labour.
In the run up to the winner of the Man Booker Prize For Fiction being announced, the Today programme is speaking to all six shortlisted authors. Arts correspondent Rebecca Jones speaks to Simon Mawer about his novel, The Glass Room.
Irish voters are preparing to head for the polls to vote for a second time on whether the EU's Lisbon Treaty should be ratified. Edward Stourton reports from Dublin Castle on how the campaigns from both sides of the argument are heating up.
Louisa Watts, 106, is trying to stop the closure of the care home where she lives in Wolverhampton and has managed to get a High Court injunction to stop the city council from doing it. Sarah Norman of Wolverhampton City Council and Andrew Harrop of Age Concern and Help the Aged discuss the council's appeal.
Scientists are requesting help to monitor air pollution across the UK. Science correspondent Tom Feilden reports on the search for lichens and tar spots on the leaves of trees in a London park.
Children with working mothers are less active and more likely to eat unhealthy food, a study has found. Former Children's Laureate Michael Morpurgo and Karen Pasquali Jones, a journalist and working mum, discuss the pressures on parents.
Last on