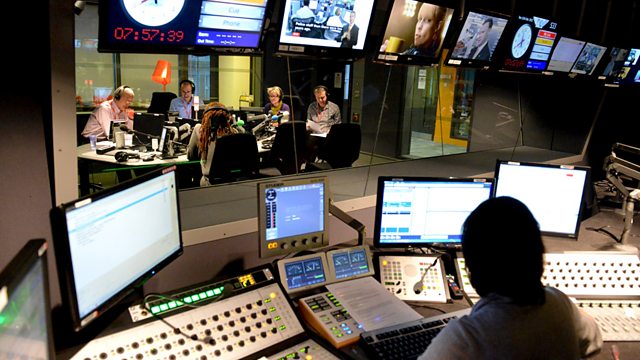 26/09/2009
Presented by John Humphrys and James Naughtie.
Leaders of the US, UK and France have accused Iran of building a new plant to enrich uranium, in breach of UN rules. North America editor Mark Mardell and correspondent Jon Leyne consider whether the UN could impose new, tough sanctions against Iran if it does not fully co-operate with global powers.
The Labour Party is drifting, its MPs are despondent and it is gripped by defeatist thinking, former deputy prime minister John Prescott says. Political correspondent Susan Hulme considers how Gordon Brown is preparing for Labour's last party conference before the general election.
A mountain is being renamed in honour of a Welsh princess who spent most of her life confined in a monastery. Princess Gwenllian Society member Kathryn Pritchard Gibson, who lives in the house where Gwenllian was born, considers whether this is a 'fitting tribute' to the princess.
Exactly 200 Korean families are having a rare chance to meet relatives on the other side of border that divides their nation. Correspondent John Sudworth reports on the resumption of a family reunion programme suspended two years ago because of worsening relations between North and South.
The world's leading nations have agreed 'tough new regulations' to prevent another global financial crisis, US President Barack Obama has said. Economics editor Stephanie Flanders reports on why the G20 is effectively replacing the G8 group of developed economies. Dr Gerard Lyons, chief economist at Standard Chartered Bank, examines whether the summit was a success.
ITV and Tony Ball, the former boss of Sky, have ended talks about him becoming chief executive at the broadcaster, the BBC has learnt. Business editor Robert Peston reports on the 'surprise and disappointment' at the collapse of the talks.
David 'Honeyboy' Edwards is one of the last original Delta Bluesmen still touring the world. He was picking cotton on the plantations when the Great Depression hit in 1929 and was present on the night legendary bluesman Robert Johnson was poisoned in 1938. Nicola Stanbridge talks to the 94-year-old musician who has played with all the greats.
Thought for the day with The Reverend Bob Marshall, an Anglican priest.
GPs in England are to get speedier access to diagnostic tests to help spot less clear-cut cancer cases, Prime Minister Gordon Brown will pledge. Professor Mike Richards, national cancer director for England, discusses the initiative to get key tests completed within two weeks of seeing their GP.
After the 'Calais Jungle' camp was shut by French police, Home Secretary Alan Johnson denied the UK will be forced to take migrants from there. Correspondent Andrew Hosken reports on the stories of those who have made extraordinary journeys just to get to Calais.
What is the relationship between the President of the United States and the Prime Minister? Political editor Nick Robinson reflects on a week of headlines saying Gordon Brown has been 'snubbed' by the White House and article after article questioning the 'special relationship' between the two countries.
The BBC is searching for prospective candidates for 'more mature' female news presenters. The Today programme speaks to one rather extravagant lady, Dame Edna Everage, about how confident she is about being offered a job.
Iran's newly-revealed nuclear facility is open for inspection by UN experts, the country's president has said. Foreign Secretary David Miliband discusses whether he would be prepared to use force to ensure Iran complies with UN regulations. Mark Fitzpatrick, of the International Institute for Strategic Studies, considers Iran's nuclear ambitions.
The writer William Dalrymple, who has spent 25 years exploring India, is setting off on an unusual journey on a bus containing what he calls 'ganja-smoking tantric madmen from rural Bengal', a collection of monks and musicians of many kinds. Mr Dalrymple discusses his journey and the music group Papan das Baul play some transcendental and spiritual music.
Playwright Harold Pinter used to describe cricket as 'the greatest thing that God created on earth, certainly greater than sex'. Actor Bill Nighy, who knew Pinter well, discusses why actors will be gathering at Lord's to remember the playwright.
The BBC's Strictly Come Dancing and ITV programme the X Factor are going head-to-head in a Saturday evening ratings war. The head of BBC Vision, Jana Bennett, explains why the decision was made to create a straightforward clash in the schedules.
Last on