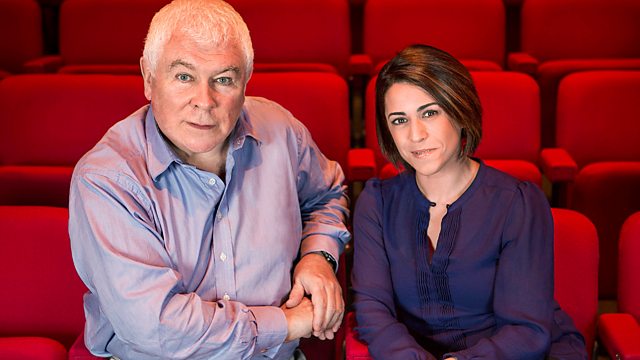 Sean Rafferty
Presented by Sean Rafferty.
Soprano Alice Coote and director Tom Cairns join Sean to talk about Opera North's new production of Werther by Massenet.
Sean is also joined by baritone Michael Volle and tenor Ben Heppner prior to Royal Opera House's new production of Tristan und Isolde, directed by Christof Loy.
Plus acclaimed soprano Joan Rodgers performs in the studio and talks to Sean about her forthcoming performance at Leeds Lieder. Joan is accompanied by pianist Julius Drake, artistic director of the festival.
17:02
MASSENET
Werther (Prelude)
Orchestre de Paris
Georges Prêtre (conductor)
EMI CLASSICS 5626272,
CD1, track1
3'54
17:07
LIVE
TCHAIKOVSKY
To forget so soon
Joan Rodgers (soprano)
Julius Drake (piano)
2'45
17:15
LIVE
POULENC
La Sommeil (from La Courte Paille)
Joan Rodgers (soprano)
Julius Drake (piano)
1'42
SEGUE
17:17
LIVE
POULENC
La Courte Paille (Quelle aventure!)
Joan Rodgers (soprano)
Julius Drake (piano)
0'55"
17:25
LIVE
SHOSTAKOVICH
Satires, op.109 (Misunderstanding)
Joan Rodgers (soprano)
Julius Drake (piano)
4'33
17:31
BACH
Partita No.4 in D major, BWV 828 (Ouverture)
Glenn Gould (piano)
SONY CLASSICAL SM2K52597
CD1, track 20
5'31
17:41
MASSENET
Werther (Act III: Air des letters)
Maria Callas (soprano)
Orchestre de la Société des Concerts du Conservatoire
Georges Prêtre (conductor)
EMI CLASSICS CDM5664672
Track 6
6'57
17:54
MASSENET
Werther (Act III: Pourquoi me réveiller, ô soufflé de printemps? & N'acheves pas! – Ciel, ai-je compris? – Non, vous ne me verrez plus.)
José Carreras (tenor)
Frederica von Stade (soprano)
Orchestra of the Royal Opera House, Covent Garden
Sir Colin Davis (conductor)
PHILIPS 416 656-2
CD2, tracks 9&10
5'27
18:03
SZYMANOWSKI
Three Paganini Caprices, op.40 – Theme & Variations
Alina Ibragimova (violin)
Cédric Tiberghien (piano)
HYPERION CDA67703,
Track 12
8'21
18:13
WAGNER
Tristan und Isolde (Act III: Die alte Weise)
Placido Domingo (tenor)
Olaf Bär (baritone)
Orchestra of the Royal Opera House, Covent Garden
EMI 5580062
CD3, track 2
5'28
18:23
WAGNER
Tristan und Isolde (Act III, Sc.1: Wo ich erwacht, weilt' ich nicht)
Ben Heppner (tenor)
NDR Sinfonieorchester
Donald Runnicles (conductor)
RCA 09026632392
Track 1
8'08
18:34:02
WAGNER
Tristan und Isolde (Act III, Sc.3: Mild und leise wie er lächelt)
Nina Stemme (soprano)
Orchestra of the Royal Opera House, Covent Garden
Antonio Pappano (conductor)
EMI 5580062
CD3, track12
6'25
18:45
SILVIUS LEOPOLD WEISS
Sonata No.39 in C major (Presto)
Jakob Lindberg (lute)
BIS CD 1534
Track 6
6'01
18:53
SCHUBERT
Symphony No.3 (Presto vivace)
Wiener Philharmoniker
Carlos Kleiber (conductor)
DEUTSCHE GRAMMOPHON 4497452
Track 4
5'56
Last on