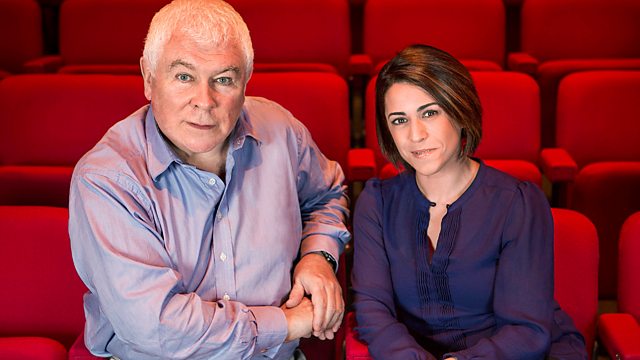 21/09/2009 Matthew Barley and YCAT artists
Sean Rafferty presentes a selection of music and guests from the arts world.
Cellist Matthew Barley joins Sean to talk about his Kings Place residency. He is also joined by tabla player Sanju Sahai and they perform together in the studio.
And newly-selected Young Concert Artists Trust (YCAT) artists Helen Sherman (mezzo-soprano), Philip Higham (cello) and Caroline Macphie (soprano) talk about joining YCAT and what it means for their careers. They perform in the studio.
17:03
KHACHATURIAN
Waltz (Maskerade)
Hamburg State Philharmonic Orchestra
Ingo Metzmacher (conductor)
EMI 556970-2
T13
4:10
17:08
LIVE
Improvisation
Matthew Barley (cello)
Sanju Sahai (tabla)
5'00
17:18
LIVE
CASALS
Song of the Birds
Matthew Barley (cello)
1'48
17:25
LIVE
Improvisation
Matthew Barley (cello)
Sanju Sahai (tabla)
3'30
17:30
HANDEL
Disserratevi, o porte d'Averno (La Resurrezione)
Camilla Tilling (Angelo – soprano)
Le Concert d'Astree
Emmanuelle Haim (harpsichord & direction)
VIRGIN 694567
CD1 T2
4:47
17:36
BEETHOVEN
32 Variations in C minor, Wo0.80
Cedric Tiberghien (piano)
HMC 901775
T2
10:56
17:48
BYRD
Vultum Tuum
The Cardinall's Musick
Andrew Carwood (director)
HYPERION CDA 67675
T9
6'16
17:54
MENDELSSOHN
Vivace non troppo (Symphony No.3 in A minor, Op.38 'Scottish')
Leipzig Gewandhaus Orchestra
Riccardo Chailly (conductor)
DECCA 478 1525
T2
4:10
18:03
DONIZETTI
Sinfonia (Parisina)
London Philharmonic Orchestra
David Parry (conductor)
OPERA RARA ORC40
CD1 T1
8:07
18:15
LIVE
DUPARC
Chanson Triste
Helen Sherman (mezzo)
Malcolm Forbes-Peckham (piano)
3'07
18:22
LIVE
FAURE
Romance, Op.69
Philip Higham (cello)
Simon Lane (piano)
3'29
18:32
LIVE
DEBUSSY
Green (Ariette oubliees)
Caroline MacPhie (soprano)
Joseph Middleton (piano)
2'05
18:34
R. STRAUSS
Mein Herz ist stumm, Op.19 No.6
Caroline MacPhie (soprano)
Joseph Middleton (piano)
3'16
18:38
SIBELIUS
Presto for strings
Lahti Symphony Orchestra
Osmo Vanska (conductor)
BIS CD 1485
T4
6:45
18:46
RAVEL
Piece en Forme de Habanera
Matthew Barley (cello)
Julian Joseph (piano)
SIGNUM SIGCD171
T7
4:22
18:51
LISZT
Richard Wagner – Venezia
Barry Douglas (piano)
RCA 61221 2
T10
2'41
18:55
CORRADINI
Spargite Flores
The Gonzaga Band
CHAN 0761
T1
4:19
Last on