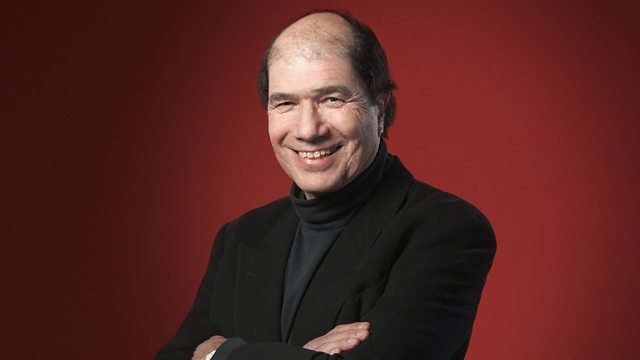 Mark Haddon
Michael Berkeley talks to novelist Mark Haddon, whose best-selling book The Curious Incident of the Dog in the Night-Time won many major literary awards. He has since published A Spot of Bother and is currently writing a stage play. His musical tastes are wide-ranging, and he talks eloquently about each of his choices, from Britten's setting of the folk song Tom Bowling and a Mozart piano sonata to music by Steve Reich, Elliott Carter and Sonic Youth.
Playlist:
M Berkeley: The Wakeful Poet (Music from Chaucer) (pub OUP)
Beaux-Arts Brass Quintet
BBQ BBQ 003 Tr 10
Dur: 25s
Arr Britten: Tom Bowling
Peter Pears (tenor)
Benjamin Britten (piano)
Folksongs DECCA 430 063-2 Tr 3
Dur: 4m26s
David Raksin: Laura
Derek Bailey (guitar)
CDR T2 Ballads TZADIK 7607 Tr 1
Dur: 2m58s
Steve Reich: Pulse (Music for 18 Musicians)
Music for 18 Musicians ECM 821 417-2 Tr 1
Dur: 4m42s
Autechre: PlyPhon (from the album Quaristice)
Quaristice WARP WARPCD333 Tr 4
Dur: 2m31s
Mozart: Piano Sonata in C, K545 (Sonata Facile) - 1st mvt - Allegro
Mitsuko Uchida (piano)
Mozart PHILIPS 412 122-2 Tr 1
Dur: 4m33s
Sonic Youth: Kool Thing (from the album Goo)
Goo GEFFEN 7599-24297-2 Tr 4
Dur: 4m06s
Elliott Carter: Oboe Quartet (opening)
Heinz Holliger (oboe)
Thomas Zehetmair (violin)
Ruth Killius (viola)
Thomas Demenga (cello)
Lauds and Lamentations ECM 472 787-2 Tr 1
Dur: 7m35s
Kate Rusby: My Young Man
Little Lights PURE MUSIC PRCD07 Tr 11
Dur: 4m4s.
Last on
Archive Unlocked: Two Decades of Private Passions