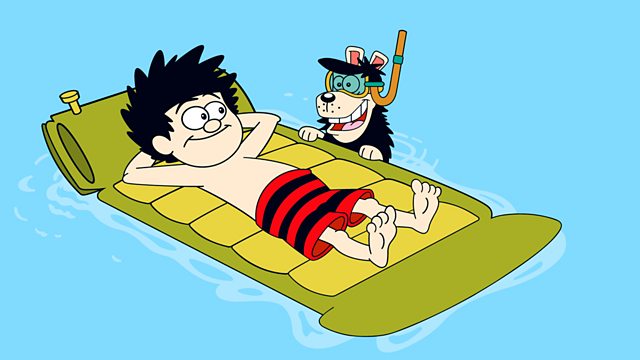 Animation. Dennis lives in Beanotown with Mum, Dad, little sister Bea and his pet dog Gnasher. Gnasher is more than a dog to Dennis; he is a kindred spirit. Whatever Dennis does, Gnasher does with him.
Together with their friends Curly and Pie Face, Dennis and Gnasher believe the world truly is their oyster and that kids should make the rules. Not everyone agrees, including Mum and Dad. But Dennis and Gnasher are not going to let that stand in the way of their pursuit of fun!
It is a scorching hot day in Beanotown and Dennis, Curly, Pie Face and Gnasher are sweltering. Walter and his friends are enjoying themselves in Walter's new swimming pool, but Dennis and his friends cannot join in. Sergeant Slipper comes past and tells them that there is a water shortage, so they cannot play with water today.
The boys are hot and want their own pool, so decide to dig one in Dennis's backyard and figure out how to fill it later. Their digging leads them to find the old drains of Beanotown. In their exploration and hunt for water, they end up being chased by Slipper, and releasing the overflow of Beanotown Lake. The water flows right through the drains and fills the hole in Dennis's garden, giving the boys the swimming pool they wanted.
Last on