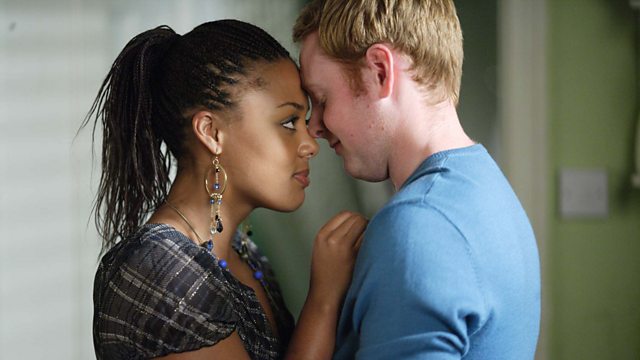 18/09/2009
Peggy's worried about raising Sam's bail money, and is thrilled when Phil tells her the bank's giving him a loan. Peggy visits Sam and offers to talk to Ricky for her. Phil shows Peggy £100,000 in cash; it's all he can raise. Ronnie doesn't want to use her money to help.
Peggy overhears Ricky and Bianca arguing and realises Bianca grassed up Sam, not Whitney. Peggy wants Ricky to help raise the bail money, but he tells her he's washed his hands of Sam and Bianca. Peggy makes a phone call. Archie's car pulls up and Peggy gets in.
Liam wants to ask Ricky and Bianca to come to parents' evening, but can't as they're constantly arguing. Ricky tells Bianca there's now no chance of them getting back together, he's moving out.
Bradley's received his Decree Absolute, but Jean hasn't given Stacey her copy yet. Stacey tells Bradley her medication stops her feeling upset or happy. She tells him to go to Canada, and helps him decorate Dot's kitchen, Canadian style. Syd's impressed, but tells Bradley she's happy to stay in Walford. Stacey looks though her photo album then hides her next tablet in it.
Ian and Max argue. They later compare parenting methods and Abi suggests a dad swop. Peter and Lauren talk and he apologises. Lauren wants Peter back, and has decided she's ready to sleep with him.
At the police station, Denise unintentionally reveals how much she disliked Trina. DC Cunningham lets Denise go, but tells Denise and Lucas she'll be in touch if the post mortem proves Trina was murdered.
Christian gives Syed an ultimatum, if he's ready to break up with Amira and risk losing everything, they can be together. Syed tries, but can't bring himself to do it. Christian tells him it's over. Christian kisses James.
Last on
Credits
| Role | Contributor |
| --- | --- |
| Peggy Mitchell | Barbara Windsor |
| Archie Mitchell | Larry Lamb |
| Phil Mitchell | Steve McFadden |
| Ronnie Mitchell | Samantha Womack |
| Sam Mitchell | Danniella Westbrook |
| Ricky Butcher | Sid Owen |
| Bianca Jackson | Patsy Palmer |
| Liam Butcher | James Forde |
| Tiffany Dean | Maisie Smith |
| Morgan Jackson-King | Devon Higgs |
| Denise Wicks | Diane Parish |
| Lucas Johnson | Don Gilet |
| DC Deanne Cunningham | Zoe Henry |
| Chelsea Fox | Tiana Benjamin |
| Libby Fox | Belinda Owusu |
| Ian Beale | Adam Woodyatt |
| Jane Beale | Laurie Brett |
| Max Branning | Jake Wood |
| Tanya Branning | Jo Joyner |
| Lauren Branning | Madeline Duggan |
| Peter Beale | Thomas Law |
| Abi Branning | Lorna Fitzgerald |
| Bradley Branning | Charlie Clements |
| Stacey Branning | Lacey Turner |
| Syd Chambers | Nina Toussaint-White |
| Jean Slater | Gillian Wright |
| Christian Clarke | John Partridge |
| Syed Masood | Marc Elliott |
| Executive Producer | Diederick Santer |
| Amira Shah | Preeya Kalidas |
| James Mackie | Paul Keating |