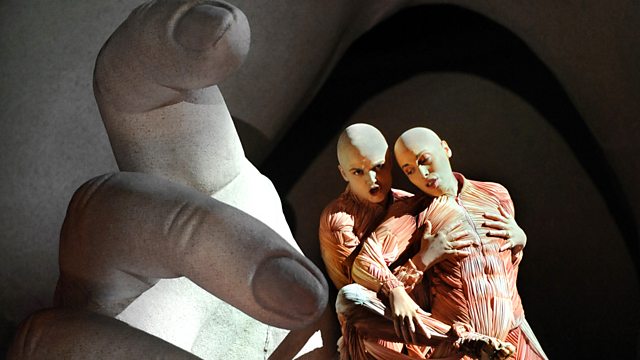 Sam Mendes's new film Away We Go, A Gate at the Stairs by Lorrie Moore, and Small Island tv adaptation
Listen in pop-out player
Tom Sutcliffe is joined by historian Frances Stonor Saunders, critic David Benedict and writer Louise Doughty to discuss the cultural highlights of the week - featuring a giant operatic nude, fumbled adoptions and old pots in a new room.
In Sam Mendes's new film, Away We Go, Verona (Maya Rudolph) and Burt (John Krasinski) are a couple who are bumbling their way through life until Verona becomes pregnant. This inspires them to set off on a North American odyssey, dropping in on friends and family to try and find the ideal location to begin parenthood together. However, everywhere they go and all the families they visit seem to lack whatever it is they're looking for.
Andrea Levy's novel Small Island, which won the Orange Prize in 2004, traced the experience of Jamaicans seeking a new life in postwar London. Paula Milne and Sarah Williams have now adapted the book for television. In late 1930s Jamaica, trainee teacher Hortense (Naomie Harris) dreams of travelling to 'the mother country' and living in a house in London with a garden and a doorbell. Queenie (Ruth Watson) escapes to London from the drudgery of a Yorkshire pig farm. War and marriages of convenience combine to intertwine their lives in unforeseen ways.
Lorrie Moore is an American writer best known for her short stories. A Gate at the Stairs is her first novel for 15 years and records a year in the life of Midwest college student Tassie Keltjin, beginning just before 9/11. Tassie has escaped her rural roots to study in the college town of Troy, but her search for a babysitting job brings her into the lives of Sarah and Edward and their adopted daughter. Back home her brother is thinking of joining the army. Eventually secrets are revealed and tragedies unfold.
Hungarian composer Gyorgy Ligeti wrote only one opera, Le Grand Macabre. A sprawling, absurdist work with a libretto based on a play by Michel De Ghelderode, its central character, Nekrotzar - a personification of death - arrives in Breughelland to annouce the imminent extinction of all life by a huge comet. The ENO production of the opera by Catalan company La Fura del Baus features an enormous model of a naked woman in, on and around which all the action takes place. The meaning of the opera may be obscure, but the staging is spectacular.
The Victoria and Albert Museum's ceramic galleries were first opened 100 years ago. Since then the ceramics collection has grown to more than 26,000 pieces, making it the largest and most comprehensive of its kind in the world. The opening of these new galleries represents a move to make the collection more accessible to the public after a century of languishing in gloomy wooden cabinets, seldom visited by anyone apart from scholars or museum visitors with a poor sense of direction. The first phase of the renovation sees key pieces from the collection arranged in chronological and thematic groups to provide a comprehensible and visually stunning account of the global evolution of ceramics.
Last on