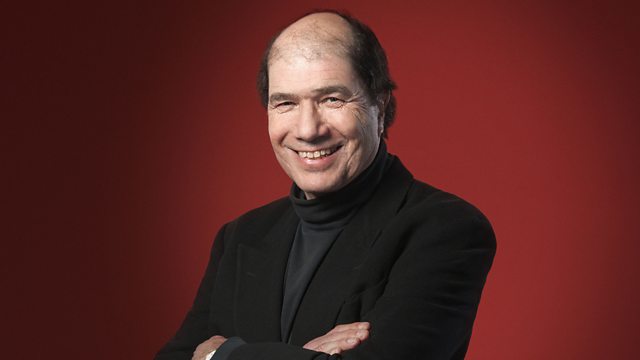 Imogen Stubbs
Michael Berkeley talks to actress Imogen Stubbs, who has starred in many stage productions at the RSC, National Theatre and London's West End in leading roles ranging from Shakespeare to Harold Pinter and Michael Frayn. Her musical choices include Brahms' First Piano Concerto, Prokofiev's Romeo and Juliet, Jeff Buckley singing Britten's Corpus Christi Carol, Alfred Deller singing Purcell and Shaun Davey's The Relief of Derry Symphony.
Playlist:
M Berkeley: The Wakeful Poet (Music from Chaucer - pub OUP)
Beaux-Arts Brass Quintet
BBQ BBQ 003 Tr 10
Dur: 25s
Tchaikovsky: June (Barcarolle) - The Seasons
Mikhael Pletnev (piano)
The Seasons MK MK418008 Tr 6
Dur: 5m22s
Gershwin: Oh Lord I'm on my way (Porgy and Bess)
Porgy ...... Willard White (bass-baritone)
Glyndebourne Chorus
London Philharmonic Orchestra
Simon Rattle (conductor)
Porgy and Bess EMI 749568-2 CD3 Trs 18-19
Dur: 1m33s
Britten: Corpus Christi Carol
Jeff Buckley
Grace COLUMBIA 4759282 Tr 8
Dur: 2m57s
Prokofiev: Juliet's Death (Romeo and Juliet - Act 4)
Kirov Orchestra, St Petersburg
Valery Gergiev (conductor)
Romeo and Juliet PHILIPS 464 727-2 CD2 Tr 21
Dur: 4m31s
Georges Delerue: Ashton's Son (Main theme music from the film A Summer Story)
A Summer Story VIRGIN CDV 2562 Tr 20
Dur: 3m23s
Brahms: Piano Concerto No 1 in D minor, Op 15 (excerpt)
Clifford Curzon (piano)
London Symphony Orchestra
George Szell (conductor)
Brahms DECCA 466 376-2 Tr 2
Dur: 3m58s
Gene Kelly: Singin' in the Rain (Brown/Freed)
MGM Studio Orchestra
Lennie Hayton (conductor)
Gene Kelly PREMIER SOUNDTRACKS CD ODEON 9 Tr 1
Dur: 2m55s
Purcell: An Evening Hymn
Alfred Deller (countertenor)
William Christie (harpsichord)
Wieland Kuijken (bass viol)
Henry Purcell HARMONIA MUNDI HM 90249 Tr 8
Dur: 5m2s
Shaun Davey: The Relief of Derry Symphony (excerpt from 4th mvt)
Gerard McChrystal (saxophone)
The Ulster Orchestra
Gearoid Grant (conductor)
The Relief of Derry Symphony TARA CD 3024 Tr 4
Dur: 5m23s.
Last on
Archive Unlocked: Two Decades of Private Passions