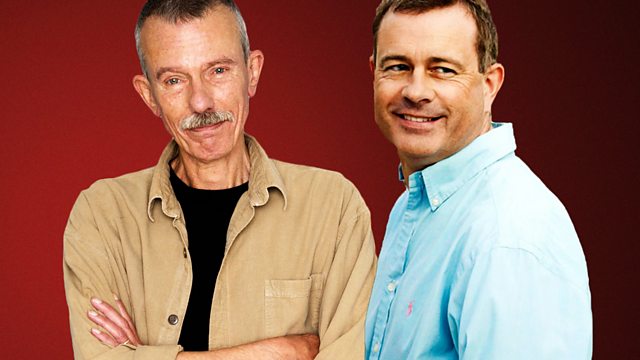 Iain Burnside - Seven Deadly Sins
With Iain Burnside. Seven Deadly Sins: Iain goes in search of the seven deadly sins and how they have been depicted in music. He is joined by actor Simon Callow.
Playlist:
Mozart: Don Giovanni (Overture)
Academy of St Martin in the Fields
Neville Marriner (conductor)
Philips 473 959 2 CD1 Tr 1
Dur: 5m57s
Salieri: Flute/Oboe Concerto in C - finale
Aurele Nicolet (flute)
Heinz Holliger (oboe)
Academy of St Martin in the Fields
Kenneth Sillito (director)
Philips 416 3592 Tr 3
Dur: 5m20s
Rossini: Mon prelude hygenique du Matin (Peches de vieillesse)
Paolo Giacometti (1849 Erard piano)
Channel Classics CCS 13898 Tr 1
Dur: 5m39s
John Wallowitch: Bruce
Blossom Dearie (voice and piano)
Mastermix CDCHE 5 Tr 8
Dur: 4m21s
Wagner: Entry of the Gods into Valhalla (Das Rheingold)
Vienna Philharmonic
Georg Solti (conductor)
DECCA 410 137 CD2 Trs 13, 14, 15
Dur: 11m53s
Hermann: Citizen Kane (Theme and Variations)
National Philharmonic Orchestra
Charles Gerhardt (conductor)
RCA Victor GD 80707 Tr 3
Dur: 3m26s
Charlie Chaplin: Delicious Dish: Boiled Book (from The Gold Rush)
Unnamed orchestra/conductor
Nostaligia NOS 3620 Tr 18
Dur: 2m33s
Villa Lobos: Bachianas Brasileiras No 2 (1st mvt - Preludio)
Orchestre National de la Radiodiffusion Francaise
Heitor Villa-Lobos (conductor)
EMI 566 912 2 Tr 3
Dur: 7m03s
Verdi: Otello (excerpt - Iago's Creed)
Iago ...... Aldo Protti (baritone)
Vienna Philharmonic
Herbert von Karajan (conductor)
DECCA 411 619-2 CD1 Tr 12
Dur: 6m
Liszt Mephisto Waltz No 1
Geza Anda (piano)
Brilliant Classics 93795 CD2 Tr 31
Dur: 10m45s
Bach Chorale Prelude: Wachet auf, ruft uns die Stimme
Helmut Walcha (organ)
ARCHIV 453 064 2 CD 2 Tr 13
Dur: 4m10s
Cherubini: Medee (Overture)
NBC Symphony Orchestra
Arturo Toscanini (conductor)
RCA GD 60278 Tr 7
Dur: 6m52s
Bax Symphonic Variations Part 1
Ashley Wass
Bournemouth Symphony Orchestra
James Judd (conductor)
Naxos 8570774 Trs 1, 2, 3, 4
Dur: 20m46s
Wolf: Fussreise
Siegfried Lorenz (baritone)
Norman Shetler (piano)
BERLIN CLASSICS 009 2562 BC Tr 8
Dur: 2m47s.
Last on