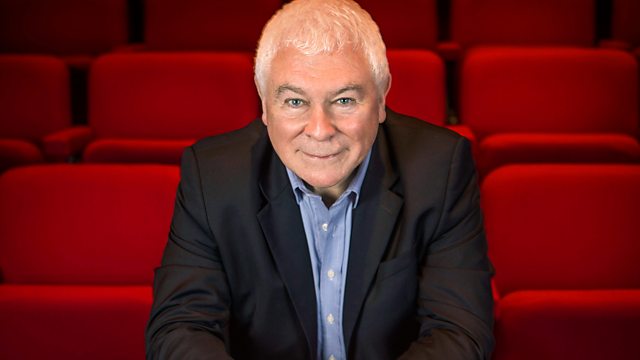 09/09/09 John Eliot Gardiner, Franz Welser-Most and Tamas Varga
Sean Rafferty presents a selection of music and guests from the arts world.
With conductor John Eliot Gardiner discussing the Monterverdi Choir's forthcoming performance at Cadogan Hall and cellist Tamas Varga playing in the studio.
Plus conductor Franz Welser-Most talking about his Prom with the Vienna Philharmonic.
17:02
JOHANN STRAUSS
Jabuka Op.456 (Zivio!)
Vienna Philharmonic
Zubin Mehta (conductor)
DG 477 622 5
CD 1, track 1
3'18
17:06
WIESS
Sonata no.39 in C (Courante)
Jakob Lindberg (lute)
BIS CD 1534
Track 2
5'08
17:12
HANDEL
Israel in Egypt, Part 2 (Moses and the children of Israel)
Monteverdi Choir
English Baroque Soloists
John Eliot Gardiner (conductor)
PHILIPS 432 110 2
CD 2, track 1
3'16
17:22
BRAHMS
Es tont ein voller Harfenklang Op 17 no.1
Monteverdi Choir
Anneke Scott (horn)
Nuala Herbert (harp)
John Eliot Gardiner (conductor)
SDG 704
Track 2
3'10
17:30
BACH
Brandenburg concerto no.2 in F, BWV 1047
Neil Brough (trumpet)
English Baroque Soloists
John Eliot Gardiner (conductor)
SDG (WHITE LABEL PRE-RELEASE)
CD 1, track 11 - 13
10'30
17:41
SCHUBERT arr. LISZT
Der Muller und der Bach (D.795)
Arcady Volodos (piano)
SONY SK 89647
Track 8
5'13
17:47
TCHAIKOVSKY
Swan lake (Valse)
Royal Liverpool Philharmonic Orchestra
Vassily Sinaisky (conductor)
AVIE AV 2139
Track 2
6'40
17:55
MENDELSSOHN
Sonata in F minor (final movement)
Roberto Prosseda (piano)
DECCA 476 5277
Track 3
3:22
18:03
PURCELL
Suite no.1 in G
Richard Egarr (harpsichord)
HARMONIA MUNDI HMU 907428
Track 1-4
3'58
18:08
GURNEY
The Latmian Shepherd
Susan Bickley (mezzo-soprano)
Iain Burnside (piano)
NAXOS 8 572151
Track 13
3'40
18:13
BRUCKNER
Symphony no.7 (3rd mvt - Scherzo excerpt)
Cleveland Orchestra
Franz Welser-Most (conductor)
ARTHAUS DVD PROMOTIONAL TRAILER
1'00
18:20
BEETHOVEN
Symphony no.9: Finale (excerpt)
Cleveland Orchestra and Chorus
Franz Welser-Most (conductor)
DG 477 7132
Track 5
3'35
18:29
SCHUBERT real. BRIAN NEWBOULD
Symphonic Fragment, D. 936A (andante)
Cleveland Orchestra
Franz Welser-Most (conductor)
EBU CONCERT, Recorded in Cleveland on 29/05/08, made available via the EBU.
10'22
18:40
VERDI
Forse la soglia attinse…Ma se m'e forza perderti
Marcelo Alvarez (tenor)
Guiseppe Verdi Orchestra Milan
Daniel Oren (conductor)
DECCA 478 144 2
Track 3
5'54
18:48
CHOPIN
Nocturne in A flat, Op.32 no.2
Elizabeth Leonskaja (piano)
TELDEC 9031 72297 2
CD 1 track 10
6'40
18:55
LIVE
BACH
Suite No.1 in G major BWV 1007 (prelude)
Tamas Varga (cello)
2'34
19:05
MOZART
Sonatina No.2 in A major (extract)
Tamas Varga (cello)
Konstanze von Gutzeit (cello)
Christopher Hinterhuber (piano)
WHITE LABEL
Track 4
3'59
19:12
LIVE
Bach
Suite No.5 in C minor, BWV 1011 (sarabande)
Tamas Varga (cello)
4'19
19:17
DVORAK
Slavonic Dance in E minor, Op.46 nos.2 & 5
Berlin Philharmonic
Lorin Maazel (conductor)
EMI 586987 2
Tracks 2 & 5
9'04
19:26
REYNALDO HAHN
L'Heure exquise
Sarah Connolly (soprano)
Eugene Asti (piano)
SIGCD072
Track 12
2'30
Last on