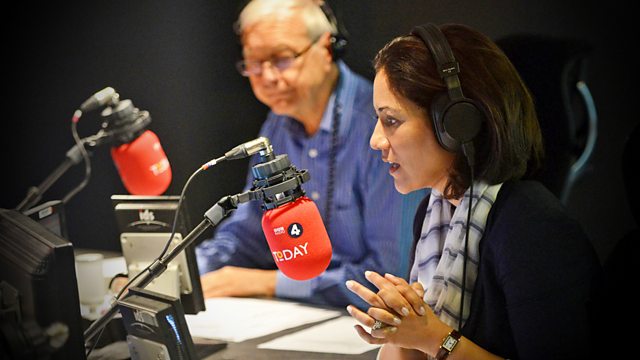 11/09/2009
Presented by John Humphrys and Edward Stourton.
Anyone who wants to work with children, including those who regularly transport children to sports matches, will soon have to be vetted for a criminal record. John O'Brien, the civil servant who will run the scheme, reacts to critics who have branded it 'insulting' and claim that it could deter volunteers.
Environment reporter Roger Harrabin talks to Prof David Mackay about what happens when coal and nuclear stations are phased out.
School support staff, including former postmen and beauticians, have been supervising lessons on their own, a report says. Research author Prof Merryn Hutchings discusses whether, as the NUT says, this practice is a 'dereliction of duty'.
The BBC has learned that the report into the collapse of carmaker MG Rover will say that five executives took 42 million pounds in pay and pensions from the company before its collapse. Business editor Robert Peston considers whether men behind the takeover and the executive they appointed enriched themselves as Rover headed for insolvency.
Plaid Cymru leader Ieuan Wyn Jones is to give his keynote speech at the party conference in Llandudno. He explains the issues his party will be campaigning on in the general election.
General Motors has announced that it has chosen the Canadian car parts manufacturer Magna to buy Opel and its sister company Vauxhall. Reporter Helena Wilkinson meets workers at the gate of the Luton plant. Paul Nieuwenhuis, of Cardiff Business School, discusses how Magna will run its new acquisitions.
Thought for the Day with Catherine Pepinster, editor of the Tablet.
Miles Templeman, director general of the Institute of Directors, and Tony Dolphin, chief economist at think-tank The Institute for Public Policy Research, consider ways in which the government can save money.
Any parent regularly in 'frequent' or 'intensive' contact with children will have to undergo criminal record checks or face fines of up to 5,000 pounds. Home editor Mark Easton considers what this says about adults' relationships with children. The children's minister, Delyth Morgan, explains how the system will operate and Bob Reitemeier, chief executive of The Children's Society, discusses whether or not this legislation infringes on privacy.
The BBC has uncovered evidence of fraud in Helmand province during Afghanistan's presidential elections. Correspondent Chris Morris explains the evidence he has uncovered. Foreign secretary David Miliband discusses whether or not the elections will provide a satisfactory outcome.
The United Nations has warned that it cannot continue funding the main refugee camp in Sri Lanka if the government there continues refusing to give its inhabitants freedom of movement. Correspondent Charles Haviland reports on the Tamil civilians living in Menik Farm. Senior Sri Lankan civil servant Prof Rajiva Wijesinha, of the Ministry of Disaster Management and Human Rights, explains why those in the refugee camp are not free to leave.
Gordon Brown has said he was sorry for the 'appalling' way in which WWII code breaker Alan Turing was treated for being gay. Susan Black, a supporter of the campaign to pardon him, discusses the significance of the apology.
Gender tests on South Africa's 800m world champion Caster Semenya reveal that she has an inter-gender condition, BBC Sport understands. Chris Ingelfield, a plastic and reconstructive surgeon, reports on the likelihood that she has some hermaphroditic or inter-gender condition.
Are child composers taken as seriously as their older counterparts? Barry Cooper, Professor of Music at Manchester University, and Richard Causton, who began composing as a child, discuss some of the best works written by children.
Last on
So you think you know the Today programme?