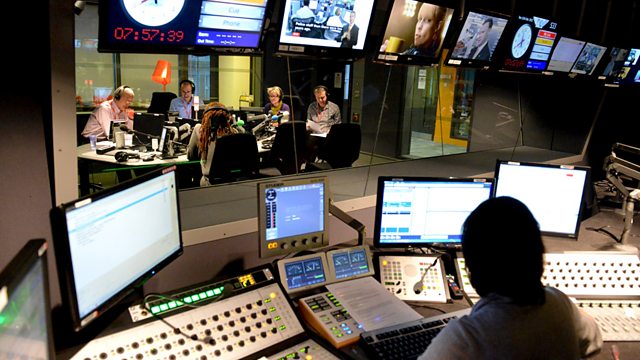 10/09/2009
Presented by James Naughtie and Sarah Montague.
Sir Michael Lyons, the chairman of the BBC Trust, discusses whether the BBC would prefer to give money back to the licence payer rather than share it with another broadcaster.
On the 25th anniversary of his discovery, the scientist behind DNA fingerprinting has called for a change to the law governing DNA databases. Tom Feilden talks to Sir Alec Jeffreys about the implications of his breakthrough.
The kidnap of a reporter in Afghanistan - and the raid to free him that left an Afghan journalist, a British soldier and two civilians dead - has again highlighted the risks of covering the world's danger zones. Hugh McManners, a former Special Forces officer, explains what he thinks of the raid.
Liverpool football fan Michael Shields, who has been freed after serving four years in prison for attacking a Bulgarian barman, has spoken of his 'living hell'. Former Bulgarian deputy prime minister Ivailo Kalfin discusses why the first pardon to a Briton convicted overseas was given to Mr Shields.
Failure to introduce healthcare reform has led the US to breaking point and it is now time to act, Barack Obama has said in a speech to Congress. Mark Mardell reflects on one of the most important speeches of Mr Obama's presidency.
A Conservative government will have much to learn from the way the party runs councils, shadow chancellor George Osborne is expected to say. Labour MP Denis MacShane and Christopher Hood, Professor of Government at All Souls College, Oxford, discuss how Downing Street can deal with budget restraints.
The world's oldest 'ring of bells' is being rung for the first time in 20 years. Correspondent Mark Worthington reports from Ipswich on the bells, which were cast in the 15th century and rang for centuries in a church which later fell into disrepair before being renovated.
'Innocent people do not belong on [the DNA] database', the scientist behind DNA fingerprinting says. Peter Neyroud, chief executive of the National Policing Improvement Agency, discusses whether branding citizens as 'future criminals' is a proportionate response in the fight against crime.
Media consultant Peter Bazalgette and David Elstein, former chief executive of television channel Five, discuss what could be cut from the BBC's spending.
The main challenger in the Afghan election has claimed that the body carrying out the count is being manipulated by the incumbent President Hamid Karzai. Correspondent David Loyn discusses his interview with Abdullah Abdullah and his claims that the election commission was on the president's side.
Is there a life after death? David Eagleman, a neuroscientist at the Bayern College of Medicine in Texas, has explored 40 very different and imaginative scenarios of what might happen next. He describes some of his suggestions, ranging from God being a bacterium who is unaware of our existence, to an afterlife where we are surrounded only by people we met in our real lives.
US President Barack Obama has made one of the most important speeches of his presidency, as he faced Congress over his plans for healthcare reform. Republican strategist Matt Mackowiak and Prof James Morone, of Brown University, discuss how the president fared.
There are fresh hopes for Iran's proposals to resolve its dispute with the West over its nuclear programme, the UN ambassador to the US says. Correspondent Jeremy Bowen reports on the latest talks between Iran and the UN. Author Hooman Majd discusses whether or not Americans understand the Iranian psyche.
'It makes you really wonder whether [journalist Steve Farrell] was worth rescuing, whether it was worth the cost of a soldier's life', a senior army source is quoted as saying in The Daily Telegraph. Vaughan Smith, a former soldier and freelance cameraman, and BBC correspondent Jeremy Bowen discuss the journalist whose rescue in Afghanistan left a British soldier dead, and what risk is a risk worth taking for a great story.
Poverty in parts of Britain is as bad as in Dickens's times, the president of the Association of Teachers and Lecturers says. Lesley Ward explains her description of a deprived underclass of children who arrive at school unable to dress themselves or use a knife and fork, some of whom are even unable to use a toilet properly.
It is the 25th anniversary of the discovery of the DNA footprint. Author Ian Rankin and Julian Baggini, editor of The Philosophers' Magazine, discuss how much society has been changed by the discovery of DNA.
Last on
Paddington creator Michael Bond talks to Today