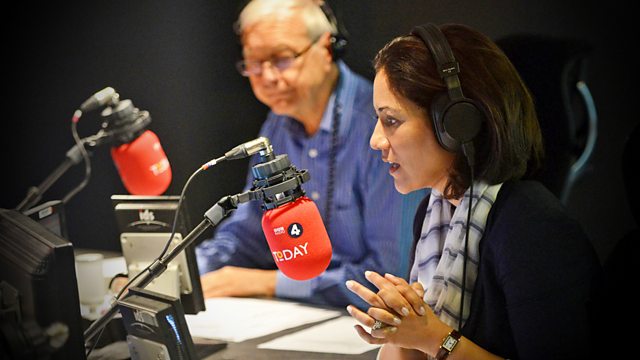 08/09/2009
Presented by James Naughtie and Sarah Montague.
The conviction of three men for plotting to blow up transatlantic airliners has shed new light on the links between British militants and Al Qaeda. Michael Clarke, of think tank the Royal United Services Institute, discusses the evidence.
All hospitals should employ an alcohol liaison officer to cope with the growing problem of alcohol-related injuries, a senior A and E consultant says. Dr Zul Mirza discusses what difference this officer would make.
North America editor Mark Mardell examines the current healthcare system in the US.
Sir George Young has replaced Alan Duncan as shadow leader of the Commons on the Conservative front bench. Political editor Nick Robinson analyses the fallout from Mr Duncan's comments that MPs were expected to live 'on rations'.
Joshua Rozenberg reports on how the Law Lords will operate after they move across to the new UK Supreme Court.
Bill Gorman, executive chairman of the UK Tea Council, discusses whether tea is too expensive.
Jon Kay reports on Bristol council's consultation on the future of street art and graffiti in the city.
Thought for the Day with John Bell, of the Iona Community.
Dr Dan Plesch, director of the Centre for International Studies and Diplomacy at SOAS, and Sir Malcolm Rifkind, former Conservative defence and foreign secretary, consider whether defence exports can be used as a foreign policy tool.
Three men have been found guilty of plotting to kill thousands of people by blowing up planes with home-made liquid bombs. Security correspondent Gordon Corera reports on the convictions. Sir Ken Macdonald and Andy Hayman discuss the biggest terror investigation in the UK.
Comedienne Arabella Weir and mother of two Viv Groksop discuss whether parents should give in to children's back-to-school demands.
Senior US and UN officials have met Afghan President Hamid Karzai to reiterate their concerns over fraud in the recent elections. Chris Morris reports from Kabul on their concerns ahead of the latest results in the vote.
John Wraith, of RBC Capital Markets, discusses government forecasts that public borrowing in 2009 will reach 175 billion pounds.
Lee Hall, writer of Billy Elliot, and Patrick Russell, curator of non-fiction at the BFI, discuss the history of the coal industry portrayed on film.
Alan Duncan says his sacking from the Tory front bench was a 'sensible decision' after his comments about MPs expenses were secretly recorded. Times columnist Matthew Parris discusses Mr Duncan's claim that he is 'very happy' to take up a new job as shadow prisons minister.
The new Darwin Centre at the Natural History Museum will house 17 million insects and 3 million plant specimens. Arts correspondent David Sillito previews the collection with the museum's director of science, Richard Lane.
Ed Husain, of anti-extremism think-tank the Quilliam Foundation, and Dr John Gearson, of the Centre for Defence Studies, discuss how the UK is dealing with extremist threats.
Last on