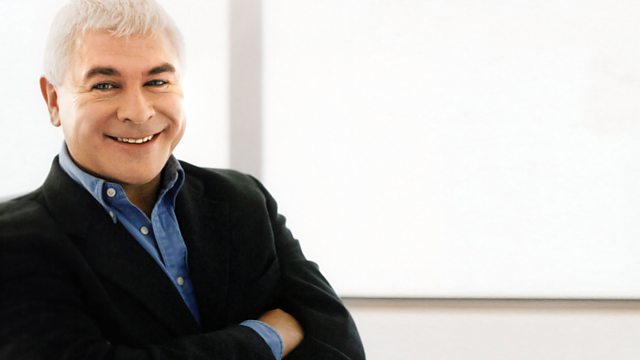 01/09/2009 Pierre-Laurent Aimard and Leigh Melrose
Sean Rafferty presents a selection of music and guests from the arts world.
With members of the Chelsea Schubert Festival. Directors Andrew O'Brien and Marc Verter discuss the event, accompanied by performance from soprano Anna Devin and pianist Simon Lepper.
Plus French pianist Pierre-Laurent Aimard in the studio ahead of his Prom, and baritone Leigh Melrose performing a preview of his appearance at the Proms.
17:02
GABRIELI
Canzon Septimi Toni a 8
London Brass
Philip Pickett (conductor)
APEX 0927408232
Tr 13
3'20
17:06
SCHUMANN
Symphonic Studies, op.13: No.12 Allegro Brillante
Pierre Laurent Aimard (piano)
WARNER 256463426-2
Tr 18
6'44
17:13
SCHUBERT
Die Manner sind Mechant D.886/3
Anna Devin (soprano)
Simon Lepper (piano)
LIVE
2'23
17:22
SCHUBERT
Lied eines Schiffers an die Dioskuren, D.360
An den mond, D.193
Andrew O'Brien (tenor)
Marc Verter (piano)
LIVE
6'09
17:34
SCHUBERT
Du bist die Ruh D.776
Anna Devin (soprano)
Simon Lepper (piano)
LIVE
3'59
17:39
RIMSKY KORSAKOV
Sheherazade: The Festival At Baghdad
Boston Symphony Orchestra
Seiji Ozawa
DG 469659-2
Tr 4
12'15
17:54
HANDEL
Ezio HWV 29: Libretto Gia risonar d'intorno
Ildebrando D'Arcangelo (bass-baritone)
Modo Antiquo
Federico Maria Sardelli (conductor)
DG CD 477 8361 9
Tr 15
5'29
18:03
MOZART
Don Giovanni, KV 527: overture
Royal Concertgebouw Orchestra
Kurt Sanderling (conductor)
RCO 08005
Cd 5 Tr 1
6'05
18:10
WARD
Fantasia No.1 a6 (VdGS 1)
Phantasm
LINN CKD 339
Tr 1
3'24
18:14
MOZART
Piano Sonata No. 6 in D major, K. 284: Rondo & Polonaise
Pierre-Laurent Aimard (piano)
LIVE
3'45
18:24
BARTOK
Concerto for 2 pianos, percussion and orchestra: III Allegro non troppo
Pierre-Laurent Aimard, Tamara Stefanovich (pianos)
Neil Percy, Nigel Thomas (percussion)
London Symphony Orchestra
Pierre Boulez (conductor)
DG 4778125
CD 4 Tr 3
6'17
18:35
MOZART
Concerto for piano and orchestra no. 27 (K.595) in B flat major
Allegro
Pierre Laurent Aimard (piano)
WARNER 2564622592
Tr 9
9'21
18:45
PERGOLESI
L'Olimpiade: Mentre dormi amor fomenti
Simone Kermes (soprano)
Le Musiche Nove
Claudio Osele (conductor)
DHM CD88697 541212
Tr 12
5'10
18:51
COPLAND
Rodeo - Buckaroo Holiday
Saint Louis Symphony Orchestra
Leonard Slatkin (conductor)
EMI 3814982
CD 2 Tr 2
7'11
19:01
XENAKIS
Aïs (opening)
Spyros Sakkas (baritone)
Bavarian Radio Symphony
COL LEGNO WWE 1CD 20086
Tr 5
3'21
19:11
KORNGOLD
Die Tote Stadt :Fritz's Aria
Act II: Mein Sehnen, mein Wahnen
Leigh Melrose (baritone)
TBC (piano)
LIVE
4'26
19:19
LISZT
Via Crucis: Station XII – Jesus dies on the cross
Leigh Melrose (baritone)
Corydon Singers
Thomas Trotter (organ)
Matthew Best (conductor)
HYPERION CDA67199
Tr 19
7'07
19:27
SCHUBERT
Die schöne Müllerin Op. 25 D 795: Das Wandern
James Gilchrist (tenor)
Anna Tilbrook (piano)
ORC 100006
Tr 1
2'27
Last on