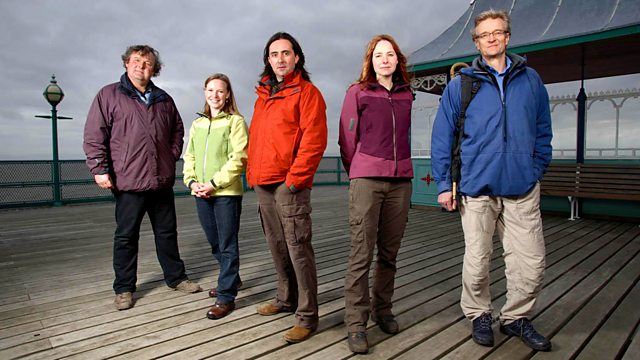 Coast heads high into the wild Atlantic to the majestic Faroe Islands, where Neil Oliver discovers how romance blossomed for British soldiers and Faroese women during the Second World War's 'Operation Valentine'. Neil begins his island-hopping journey at Glensanda, the site of Europe's biggest quarry, which provides the rock to make the roads of Britain roll. He also searches for sea eagles, recently reintroduced to the island of Canna. As he heads northwards, Neil meets adventurer Tom McLean. In 1985, Tom attempted to claim Rockall for Britain, by living for a month on the tiny outcrop of volcanic rock perched in the turbulent seas 230 miles west of the Outer Hebrides
Kate Rew is hunting for the marvellously titled bone-eating snot flower, a mysterious creature which lives on whale skeletons. Alice Roberts visits Skye to explore what remains of a remarkable industry which grew up 200 years ago to extract chemicals for the glass industry from seaweed. Alice investigates the desperate living and working conditions for the locals who harvested the kelp.
And Nick Crane stretches credibility to the limits as he sets out to measure the true length of Britain's coastline. He discovers that the answer is infinitely absorbing as he stumbles across a brain-expanding branch of mathematics, which revels in the twists and turns of Nature. What's more, it turns out that it is because of this 'fractal' maths that we are able to make our mobile phones so small.
Last on
Credits
| Role | Contributor |
| --- | --- |
| Presenter | Neil Oliver |
| Presenter | Neil Oliver |
| Presenter | Nicholas Crane |
| Presenter | Nicholas Crane |
| Presenter | Alice Walker |
| Presenter | Alice Walker |
| Executive Producer | William Lyons |
| Presenter | Kate Rew |
| Series Producer | Steve Evanson |
| Executive Producer | William Lyons |
| Producer | Steve Evanson |