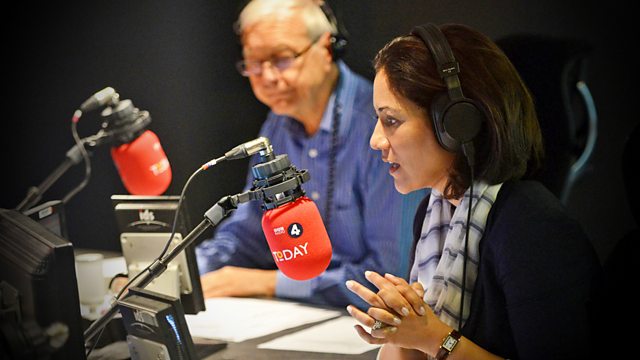 02/09/2009
Presented by James Naughtie and Evan Davis.
Former Foreign Office minister Bill Rammell discusses his involvement in the release of Lockerbie bomber Abdelbaset Ali al-Megrahi.
Climate Change Secretary Ed Miliband says it is an uphill struggle to make a deal with China and India on climate change.
The first baby conceived with the help of a new egg screening technique has been born. Professor Simon Fishel discusses how the method works.
Economics editor Stephanie Flanders examines figures showing personal debt in the UK has fallen for the first time since records began.
Poppy cultivation and production in Afghanistan has decreased sharply, according to a United Nations report. Professor Rory Stewart discusses what could have caused the decline.
Angus Stickler reports on a report detailing failings in military air accident investigation procedures.
Thought for the Day with The Right Reverend James Jones, Bishop of Liverpool.
Foreign Secretary David Miliband rejects allegations that the release of the Lockerbie bomber was linked to 'some kind of deal'.
Tory leader David Cameron accuses the government of a 'catastrophic misjudgement' over the decision to release Abdelbaset al-Megrahi.
Sir David King says he fears geoengineering could be used as an excuse for inaction on climate change.
Historians Helen Rappaport and Lisa Hilton discuss whether women are guilty of 'feminising' their subject and inflating the role of women in history.
South Asia correspondent Chris Morris talks to Antonio Costa of the UN about how the war on drugs in Afghanistan is being fought.
Defence minister Kevan Jones says major changes have taken place in investigating military air accidents.
Correspondent Nick Bryant reports on the 'dysfunctional' space in the Sydney Opera House.
Associate Editor of The Sun Trevor Kavanagh and Roy Greenslade, Professor of Journalism at City University, discuss the influence of The Sun newspaper.
Last on